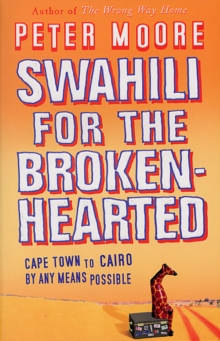 Swahili for the Broken-Hearted : Cape Town to Cairo by Any Means Possible
Paperback
Description
Question: What do you do when you're dumped by the Girl Next Door?
Answer: Throw yourself into another madcap adventure and travel from Cape Town to Cairo...A week after breaking up with the GND (his travelling companion through Central America) Peter Moore heads off to Africa to lose himself for a while.
In the grand tradition of 19th-century scoundrelas, explorers and romantics, Africa strikes him as the ideal place to find solitude and anonymity in the face of a personal crisis.
What follows is Peter's journey from one end of the Dark Continent to the other.
Travelling the fabled Cape Town to Cairo route by any means of transport he can blag (or if he must, pay) his way onto, it's an epic trek that sees our intrepid Antipodean experience everything from the southernmost city in Africa to the Pyramids, vast game parks and thundering falls, cosmopolitan cities and tiny villages as he journeys through the very heart of Africa. And travelling on his own, it's inevitable that Peter falls in with a motley cast of characters and has a myriad misadventures: including coming face to face with a wild Hyena with very bad breath, crossing the treacherous Sani Pass, the highest in Africa, narrowly escaping a riot by hiding in a coffin shop, saving oil-covered Penguins in South Africa, acting as an extra in a WW2 epic, not to mention dodging 20,000 single woman trying to catch the eye of the king of Swaziland during the annual Reed Dance. And then there was the time when he was kicked out of Robert Mugabe's birthday bash at gunpoint...
Information
Format: Paperback
Pages: 352 pages, 1 map
Publisher: Transworld Publishers Ltd
Publication Date: 01/05/2003
Category: Travel writing
ISBN: 9780553814521
Free Home Delivery
on all orders
Pick up orders
from local bookshops
Reviews
Showing 1 - 3 of 3 reviews.
Review by johnthefireman
16/06/2015
This book suffers from many of the faults of travel books about Africa. It says more about the author (escaping from a broken relationship) than it does about Africa. Although I know many of the places he visits, I don't recognise them from his description. He spends too much time with expatriates and fellow travellers, in the places they frequent, and far too little with Africans. Some of the most authentic parts of the book are the rare occasions when he does relate to local people.Again like many similar authors, Moore has a very patronising and condescending attitude towards Africa and Africans. He is cynical, reinforces stereotypes, makes fun of Africans, and, on the rare occasions when he finds something positive, he seems surprised.Nevertheless I always find it interesting to read about places I know well and other nearby places that I haven't yet visited. It's worth reading, but I'd advise the reader to take the opinions of yet another arrogant young white traveller with a very large pinch of salt.
Review by pussreboots
16/06/2015
Swahili for the Broken-Hearted by Peter Moore was born out of his break-up with his girl friend and traveling companion. After spending months with friends in South Africa, basically living on his friends' couch, watching soap operas, he decides it's time to head home. Rather than head home by hopping on a plane bound for Australia, he decides to travel overland along the eastern coast of Africa for Cairo.Although Moore's book is about traveling through Africa, don't confuse it for a travel guide. It's not; it's a memoir about a white Australian bloke traveling through areas of Africa that tourists wouldn't normally go to — while en route to the very places that tourists do flock to: Victoria Falls, the monastery in Ethiopia, the pyramids of Giza.Since it's not a travel guide, Moore relates his adventures as they happen, for better and worse. He tells about the bribes he paid, the bribes he refused to pay, getting into fights over bus windows, numerous beers drunk, and visas approved and visas denied. It's not a complete lark, though. Moore describes hiding in a coffin shop (and inside a coffin) to escape a riot and gunfire.With all the ups and downs, though, Moore manages to paint a picture of life in eastern Africa taken one individual at a time. He does it with self deprecation and humor.
Review by Tony2704
27/08/2015
Good read, well written. Having visited Africa many times was nice to be able to associate with some of the places mentioned