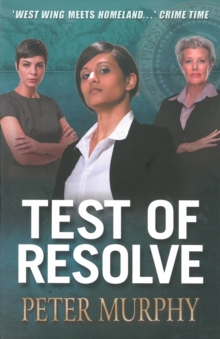 Test of Resolve
Paperback
Information
Format: Paperback
Pages: 384 pages
Publisher: Oldcastle Books Ltd
Publication Date: 27/02/2014
Category: Crime & mystery
ISBN: 9781843441885
Free Home Delivery
on all orders
Pick up orders
from local bookshops
Reviews
Showing 1 - 2 of 2 reviews.
Review by shizz
16/06/2015
Test Of Resolve Peter MurphyPolitics, religion (most of the world's ills now and throughout history caused by these disciplines?) and a liberal sprinkling of Bible belt homophobia and you've a recipe for an absorbing thriller.I enjoyed this novel for its simplicity and if that sounds like a paradox, given that it is a political thriller, it isn't. Plot wise it's a kidnapping for political reasons, demands are given, they have to be met or circumvented, and strategies are discussed to achieve a fortuitous end. It's straightforward. There are no attempts to be overly complex or 'clever clever' with intricacies to impress and befuddle, no red herrings thrust in our path,And so the novel reaches many little peaks but no spiralling crescendos (okay, maybe one) to shock and confound.But this is also a novel about people; their characters and relationships. their integrities and resolves (duh,test of resolve). So, as a reader I engage with the characters more than the plot. I found myself considering what I would do in these situations. That doesn't always happen with a thriller. You read the chain of events and dénouement with a detachment, here I almost was the characters.I found this novel refreshing and readable. So thank you again Real Readers for allowing me to spend my time so profitably.
Review by atticusfinch1048
16/06/2015
Test of Resolve – How Apt!Personally I think the title of the book says it all as Test of Resolve by Peter Murphy is one of the worst books I have read in a long time. I know you should not judge a book by a cover, and a picture can save a thousand words, in this case I wish it had saved a hundred thousand's worth of words. This book is so bad it is not good enough to make it a toilet a read for when you are there a while. Peter Murphy is a lawyer and a teacher I hope he sticks to that rather than writing rubbish like this, a waste of print and paper.This is dubbed a political thriller West Wing meets Homeland – really? We have a lesbian President who comes out on national television, like she could keep that a secret in Washington a city of rumours. One just has to look at previous American presidents to know their peccadilloes cannot be kept secret let alone as one as big as being a lesbian. Well her daughter is kidnapped in the UK there is a race against time to prevent the ransom demand.While being a unique premise there is no experience of reality in the book and as a lawyer you would hope Murphy had brought that to bare. This really is a book to forget about.