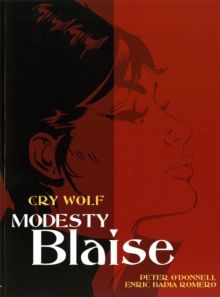 Modesty Blaise - Cry Wolf
Paperback
Description
The dark underworld of espionage and crime is lit up by the fatal charms of the gorgeous Modesty Blaise - high priestess of pulp crime and goddess of cult thrillers!
Modesty Blaise has a close encounter in "Take Me To Your Leader"; both Modesty and her partner, Willie Garvin, must save a young girl from a deadly plot in "The Highland Witch"; and in "Cry Wolf", Sir Gerald Tarrant tries to hoodwink the daring duo with a false kidnapping...but all hell breaks loose when a real kidnapper strikes!
Featuring brand new story introductions by Modesty creator, Peter O'Donnell, plus a very rare interview with O'Donnell, this latest addition to the "Modesty Blaise" library is not to be missed!
Information
Format: Paperback
Pages: 104 pages
Publisher: Titan Books Ltd
Publication Date: 20/10/2006
Category: Thriller / suspense
ISBN: 9781840238693
Free Home Delivery
on all orders
Pick up orders
from local bookshops
Reviews
Showing 1 - 3 of 3 reviews.
Well, this new edition of all the Modesty Blaise comics is about a third of the way through all the stories and itsd still going strong. Excellent series, with large format and lots of extra art and interviews. Its almost a waste of time rating them as I love the books so much I'd never give them a bad rating, even if they were bizarrely terrible for once
Review by jjmcgaffey
16/06/2015
Three stories. The first is Take Me To Your Leader - it's an interesting setup, but they spoiled it in the end. Being willing to die for a cause is one thing, being willing to kill for it is quite another. They'd already lost the toss. Oh well - nice last line, though. Then Highland Witch - a relatively minor story, with interesting characters and a clever method. Pity the luck went against them - on the other hand, it ended up with Willie on the inside and able to bring Wallace along. The haunting tricks were neat. Then Cry Wolf - Tarrant being sneaky and Modesty outfoxing him all along. The villains were relatively minor - their only advantage was being out of reach, and once Modesty and Willie caught up they were pretty well done. And then Modesty fixed Tarrant all over again - though he did make a good point. Nice. Good overall.
Review by burnit99
16/06/2015
A trio of quite good Modesty Blaise stories: "Take Me To Your Leader", a quite unusual one in which for a while Modesty and Willie take quite seriously the possibility that they are dealing with aliens, "Highland Witch", a bit of a hoot with a sardonically humorous doctor who puts me in mind of Steven Collier, and "Cry Wolf", which I already have in another collection, but a good story nonetheless. The only fly in the ointment is Romero's artwork, which I have never felt works for the Modesty Blaise series.