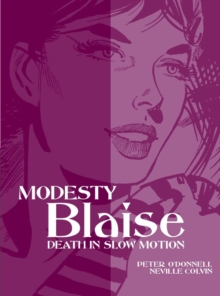 Modesty Blaise - Death in Slow Motion
Paperback
Description
The dark underworld of espionage and crime is lit up by the fatal charms of the gorgeous Modesty Blaise - high priestess of pulp crime.
Adventurer, spy, racketeer and all-round bad girl, Modesty is as stylish as she is smart and as lethal as she is beautiful!
This latest volume features the classic stories "The Balloonatic", "Death in Slow Motion" and "The Alternative Man" - in which Modesty and Willie race against time to save an old friend and his daughter in a desert; foil a Caribbean drug courier racket while playing Robinson Crusoe; and battle a sinister and deadly assassination bureau!
With introductions by creator Peter O'Donnell and an exclusive feature and artwork by Eisner-award winning artist Steve Epting, this is a must-have for fans of stylish comic-strip adventure!
Information
Format: Paperback
Pages: 104 pages
Publisher: Titan Books Ltd
Publication Date: 23/04/2010
Category: Comics and Graphic Novels
ISBN: 9781848561083
Free Home Delivery
on all orders
Pick up orders
from local bookshops
Reviews
Showing 1 - 1 of 1 reviews.
Review by jjmcgaffey
16/06/2015
 Three stories - The Balloonatic, Death in Slow Motion, and The Alternative Man. The Balloonatic is - rather silly. I think the setup was mostly invented so O'Donnell could use the clever title he thought up - the balloon really has very little to do with the story. The rest of it is yet another nutso with a big, secluded house who's playing out his fantasies and helping criminals in the process. Death in Slow Motion is much richer - Modesty's loyalties to her friends, her attention to detail, and her (and Willie's) ridiculous loads of luck in having coincidences jump up and shout to them all play a major part. The crime is ingenious, the depiction of Brook and Lynn elegant, and Modesty's solutions to various problems very neat. Though I could wish she'd come up with something more...thorough for Cyrene - the rich tend to slip though the nets of justice. The Alternative Man is rather annoying. The basic story is OK - Modesty stumbles across drug-running and, despite her best efforts to stay uninvolved, goes in and cleans it out. But Matt is fuzzy enough that I dislike him from the start, and after they're on the island he gets to be awful. And the number of coincidences goes past 'isn't Modesty lucky' and into author fiat. Definitely not one of my favorites.