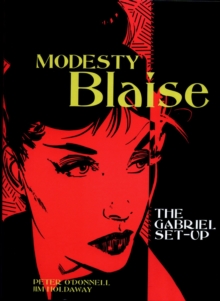 Modesty Blaise - the Gabriel Set-Up
Paperback
Description
Modesty Blaise, cult creation of best-selling author Peter O'Donnell, is back!
The London Evening Standard adventures of this all-round bad girl and spy are now collected in the first volume of a luscious Collectors' Edition paperback library!
Thrown into searing hotbeds of intrigue, and up against impossible odds, Modesty Blaise proves once and for all that the female of the species is deadlier than the male.
With her trusted right-hand man, Willie Garvin, and the underworld resources of 'The Network' on tap, no job is too big, no threat too great!
This volume is packed with special features created exclusively for this book, including an all-new introduction by Peter O'Donnell.
Information
Format: Paperback
Pages: 120 pages
Publisher: Titan Books Ltd
Publication Date: 26/03/2004
Category: Thriller / suspense
ISBN: 9781840236583
Free Home Delivery
on all orders
Pick up orders
from local bookshops
Reviews
Showing 1 - 2 of 2 reviews.
Review by jjmcgaffey
16/06/2015
Fun, like all Modestys. It's interesting what does and doesn't differ between this and the book version of how Tarrant first recruits her - the screw is entirely different, Tarrant's action and Modesty's reaction are the same 'How did you know I'm compulsive payer of debts?' Though here he doesn't mention having met Willie, either. The caper - La Machine - is relatively small-time, though the monastery setting is interesting and so is the way they set it up. And Modesty's reaction at the end, and Willie's ears - there's a lot of good stuff packed into that one story. The second one - The Long Lever - is rather depressing at the end. It explains more about Modesty's past, and shows off how she and Willie work together - and for that matter, shows how they handle a job that goes sour. Though I almost expected them to go after her.... The third story is the title one, The Gabriel Setup. Again, we learn a lot about Modesty and Willie's partnership here - through Marj and through Willie's reaction to Gabriel's scam. Gabriel is interesting - another one I know from the books, and he shows up twice there (neither one this story). Since he gets away here, I expect we'll see him again in the strip too - I don't remember if it's so, though. And the 'intro' strip at the end is neat - the panel with Willie makes me really want to see the whole story of that! That and O'Donnell's introduction to the book give interesting insight into the roots of Modesty.
Review by DTChantel
16/06/2015
I first came across Modesty Blaise back in the early 80's with the paperback re-issues of the novels. I was immediately hooked and Modesty was the bar by which all other female operatives were judged. I love Honey West, Emma Peel, Nikita and Sydney Bristow. But first and foremost is Modesty Blaise for me.<br/><br/>That being said, these graphic novels compiling the daily strips that ran in the London Evening Standard are excellent. If you like this type of thing, get these and read them immediately. You'll be immersed in a time and place unlike any other. This is escapism at its finest!