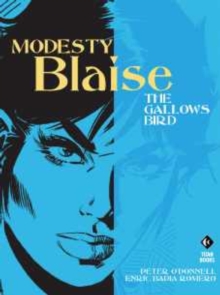 Modesty Blaise - the Gallows Bird
Paperback
Description
The dark underworld of espionage and crime is lit up by the fatal charms of the gorgeous Modesty Blaise - high priestess of pulp crime and goddess of cult thrillers!
Modesty Blaise investigates a murderous family in "The Bluebeard Affair"; her partner, Willie Garvin, joins her to help the FBI in New Orleans in "The Gallows Bird"; in "The Wicked Gnomes", a dangerous organisation kidnaps an old friend; and a crash-landing in the jungle spells trouble in "The Iron God", as diamond thieves threaten our heroes!
Featuring brand new story introductions by Modesty creator Peter O'Donnell, plus a very rare interview with O'Donnell, this latest addition to the "Modesty Blaise" library is not to be missed!
Information
Format: Paperback
Pages: 128 pages
Publisher: Titan Books Ltd
Publication Date: 01/04/2006
Category: Thriller / suspense
ISBN: 9781840238686
Free Home Delivery
on all orders
Pick up orders
from local bookshops
Reviews
Showing 1 - 1 of 1 reviews.
Review by jjmcgaffey
16/06/2015
Four stories in this one, and one error. The first story is The Bluebeard Affair - the caper is pretty small but there's some nice twists to it. Nicole being Rene Vaubois' niece, the circus, Rosa and her 'brothers', the nasty stepdaughters and their end, Modesty's method for saving Willie - nice all around. Oh, and Chloe's contribution(s). Then the title story, The Gallows Bird - interesting pair of villains, though I wish they (Titan Books) had been able to use the original artwork. What did Willie say to the girl? The villainess is quite thoroughly nasty, and she got painfully close to signing Modesty off. They were pretty helpless in the final fight, but then Modesty and Willie had surprise on their side that time. Then comes The Wicked Gnomes - Maude Tiller back again, and the next episode of their futile attempt to get together. Two odd things here - why did the man try to shove Willie back instead of talking? Stupid. And similarly, why did Tarrant insist Maude come back to London with him? Necessary for the conclusion but out of character. This is also where the error is - strip 3097 is printed twice, once where it ought to be and once in place of strip 3194, after the fight on the bridge. Hmmmph. For some reason that strip doesn't have a number on it, only a date, and someone slipped up, I guess. Then the last story is The Iron God - an interesting setting, a stretched-all-out-of-reason setup, and a neat ending. O'Donnell mentions at the beginning that the end is unique - I think he meant that they were saved by the person they were helping. I don't think it's unique - there's at least one other where Willie would have been dead but for an innocent's intervention - but very rare, yes. Decent, good, good and good.