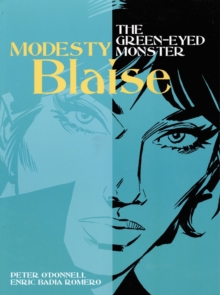 Modesty Blaise - the Green-Eyed Monster
Paperback
Description
As dangerous as she is desirable, Modesty Blaise, the cult creation of best-selling writer Peter O'Donnell, returns in three devastating adventures!
In Willie the Djinn, Modesty and Willie Garvin face political intrigue in the Middle East, while in The Green Eyed Monster, Modesty must deal with a prissy love rival and ruthless kidnappers. And in Death of a Jester, Modesty and Willie get caught up in a bizarre medieval jousting tournament!
Featuring brand new story introductions by Modesty creator Peter O'Donnell revealing the creative process behind the tales, this latest addition to Titan's Modesty Blaise library is not to be missed!
Information
Format: Paperback
Pages: 96 pages
Publisher: Titan Books Ltd
Publication Date: 23/09/2005
Category: Thriller / suspense
ISBN: 9781840238662
Free Home Delivery
on all orders
Pick up orders
from local bookshops
Reviews
Showing 1 - 1 of 1 reviews.
Review by jjmcgaffey
16/06/2015
The first story is Willie the Djinn - very amusing, lots of colorful characters. It was written to be relatively simple, for Romero to get into the swing of the strip. The Dollyknockers are cute, and rather nicely depicted - they're actually distinguishable, one from another, by both behavior and appearance. Willie's setup is amusing, though I'm surprised the charade lasted very long. Bet it didn't last the month. Then comes The Green-Eyed Monster - the problem with that story is that Diana is so totally stupid. Given that she always behaves like that, the rest of it follows nicely - and Modesty's fix for the villain is just lovely. But really - would an adult (or nearly) keep acting that way? Wouldn't she notice at some point that everyone around her dislikes her, including her father? Sheesh. Then Death of a Jester - pretty good. It's interesting to me particularly because I'm a member of the SCA (Society for Creative Anachronism), and do try to recreate the medieval life. St. Maur's methods are pretty poor - he's basically recreating the Victorian image of the Middle Ages, rather than the reality of it. Cute, but it's about as accurate as A Knight's Tale. That aside - not a wonderful story, it reminded me too much of The Vikings (though here his men are more into it). Even their beards looked similar. And taking the torpedo without having an idea what to do with it... just stupid, and definitely fighting out of his weight class. Nice the problem was solved for them. Overall, the book was a good set of stories, but not wonderful.