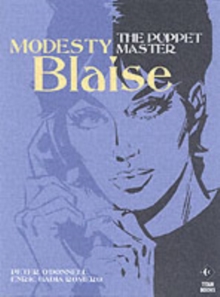 Modesty Blaise - the Puppet Master
Paperback
Description
As dangerous as she is desirable, Modesty Blaise, the cult creation of best-selling writer Peter O'Donnell, returns for four more devastating adventures!
In "The Stone Age Caper", Modesty and her partner, Willie Garvin, face a deadly Outback gang; The Puppet Master has a plan to brainwash Modesty into killing Willie to settle an old score; and humour and action mix when Modesty acquires a young admirer in With Love From Rufus!
Featuring brand new story introductions by Modesty creator Peter O'Donnell, a feature article on The Stone Age Caper and an introduction by author Jan Burke (Bloodlines), this latest addition to Titan's Modesty Blaise library is not to be missed!
Information
Format: Paperback
Pages: 96 pages
Publisher: Titan Books Ltd
Publication Date: 01/02/2006
Category: Thriller / suspense
ISBN: 9781840238679
Free Home Delivery
on all orders
Pick up orders
from local bookshops
Reviews
Showing 1 - 1 of 1 reviews.
Review by jjmcgaffey
16/06/2015
The Stone Age Caper is the first story - the story itself is quite good, if slight, but the title just doesn't fit. They disguise themselves as Australian 'abos' for a while - big whoop! Though it did cause some controversy, apparently, because abos don't wear anything above the waist - men or women. The 'show' is quite tame for these days but apparently it stirred things up a bit when first published. The story itself, as I said, is pretty minor - Mr. Wu Smith is interesting in how he reacts to Modesty, but the scam is minor, Damion is minorly nasty, and there's just not much to it. Actually, the most interesting part of it is the echoes of A Taste For Death - David Collins is quite similar to Steve Collier, Damion plays the same sort of games as the villain in Taste… mildly interesting. Next is the title story, The Puppet Master - again, most interesting for its book echoes, this time Dragon's Claw. In the book it's Willie who's mentally fiddled to attack Modesty on sight (also echoed in The Hell Makers); here it's Modesty who's fiddled, though it fails much the same way (recognition is faster than the engineered reflex to kill). The other interesting thing in here is the introduction of Maude Tiller, who also shows up in the books. I like her. Then the last story, With Love From Rufus, is really funny. Poor Modesty is seriously strung up between the right thing and the possible thing. The bad guy fortunately takes the matter out of her hands. I wonder if Willie ever got to discuss his safebreaking techniques with Rufus? He should, if only to upgrade the security on the flat… I'm glad he came to his senses, though. His skills shouldn't be ignored completely, but he's really not up to being a thief in the real world.