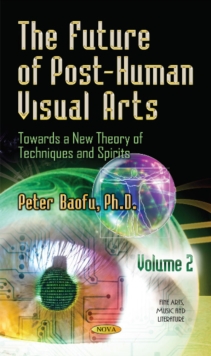 Future of Post-Human Visual Arts : Towards a New Theory of Techniques and Spirits -- Volume 2
Hardback
Description
Are the visual arts really so central in our time that, as Doug Adams once said, "people under 60, raised on television remember by what they see. "[F]ilm and television are really the language of today"? (TE 2013) This central view on the visual arts can be contrasted with an opposing view by Camille Paglia, who wrote that "the visual is sorely undervalued in modern scholarship.
Art history has attained only a fraction of the conceptual sophistication of literary criticism.
Drunk with self-love, criticism has hugely overestimated the centrality of language to western culture.
It has failed to see the electrifying sign language of images." (TE 2013a) Contrary to these opposing views (and other ones as will be discussed in the book), the visual arts (in relation to techniques and spirits) are neither possible (nor impossible) nor desirable (or undesirable) to the extent that the respective ideologues (on different sides) would like us to believe.
Needless to say, this questioning of the opposing views on the visual arts does not mean that the study of techniques and spirits is useless, or that those fields (related to the visual arts) -- like drawing, cosmetics, manicure, painting, landscape, calligraphy, photography, digital art, computer technology, advertisement, graphic design, filmmaking, fashion, sculpture, architecture, and so on -- are unimportant. (WK 2013) Of course, neither of these extreme views is reasonable.
Instead, this book offers an alternative (better) way to understand the future of the visual arts in regard to the dialectic relationship between techniques and spirits -- while learning from different approaches in the literature but without favoring any one of them (nor integrating them, since they are not necessarily compatible with each other).
More specifically, this book offers a new theory (that is, the ephemeral theory of the visual arts) to go beyond the existing approaches in a novel way and is organized in four chapters.
This seminal project will fundamentally change the way that we think about the visual arts in relation to techniques and spirits from the combined perspectives of the mind, nature, society, and culture, with enormous implications for the human future and what I originally called its "post-human" fate.
Information
Format: Hardback
Pages: 457 pages
Publisher: Nova Science Publishers Inc
Publication Date: 01/12/2014
Category: Theory of art
ISBN: 9781633219540
Free Home Delivery
on all orders
Pick up orders
from local bookshops