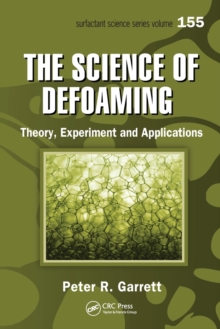 The Science of Defoaming : Theory, Experiment and Applications
Paperback / softback
Description
In the 20 years since the publication of the author's multi-contributor volume on defoaming, a vast amount of new work has been published and many new insights have been revealed.
A cohesive, single-authored book, The Science of Defoaming: Theory, Experiment and Applications provides comprehensive coverage of the topic.
It describes the mode of action of antifoams, presenting the relevant theory and the supporting experimental evidence.
Beginning with an introductory chapter that discusses the intrinsic properties of foam, the book then describes experimental methods for measuring foam properties important for studying antifoam action and techniques used in establishing the mode of action of antifoams. Since most commercially effective antifoams are oil based, a chapter is devoted to the entry and spreading behavior of oils and the role of thin film forces in determining that behavior.
The book reviews the mode of action of antifoams, including theories of antifoam mechanisms and the role of bridging foam films by particles and oil drops.
It also addresses issues related to the effect of antifoam concentration on foam formation by air entrainment and the process of deactivation of mixed oil-particle antifoams during dispersal and foam generation. For applications where chemical antifoam use is unacceptable, the text examines mechanical means of defoaming, such as the use of rotary devices and ultrasound.
The final chapters consider the application of defoaming in radically different contexts including waterborne latex paints and varnishes, machine washing of textiles, gas-oil separation in crude oil production, and cardiopulmonary bypass surgery.
Focusing on the basic science of defoaming, this book presents a balanced view, which also addresses the challenges that may arise for these specific defoaming applications.
Information
Format: Paperback / softback
Pages: 598 pages
Publisher: Taylor & Francis Ltd
Publication Date: 30/06/2020
Category: Physical chemistry
ISBN: 9780367576370
Free Home Delivery
on all orders
Pick up orders
from local bookshops