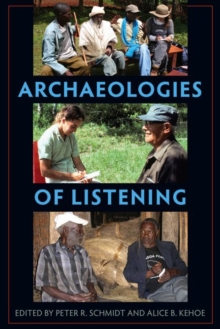 Archaeologies of Listening
Hardback
Description
Archaeologists tend to rely on scientific methods to reconstruct past histories, an approach that can alienate local indigenous populations and limit the potential of archaeological research.
Essays in this volume argue that listening to and learning from local and descendant communities is vital for interpreting the histories and heritage values of archaeological sites.
Case studies from around the world demonstrate how a humanistic perspective with people-centric practice decolonizes the discipline by unlocking an intellectual space and collaborative role for indigenous people.
These examples show how listening to oral traditions has opened up broader understandings of ancient rituals in Tanzania, earth mounds in Northern Australia, heritage meanings near the Sigirya World Heritage Site in Sri Lanka, political/religious divisions in Northern Ireland, and the bitter legacy of nineteenth-century grave excavations in British Columbia. The value of cultural apprenticeship to those who have long-term relationships with the landscape is nearly forgotten today, contributors argue.
This volume points the way to a reawakening of the core principles of anthropology in archaeology and heritage studies.
Information
Format: Hardback
Pages: 336 pages, 40 black & white photographs, 11 maps
Publisher: University Press of Florida
Publication Date: 30/01/2019
Category: Archaeology
ISBN: 9780813056241