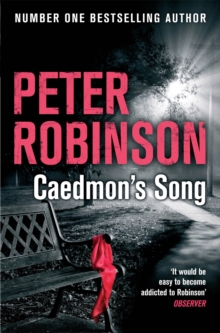 Description
Peter Robinson's psychological thriller Caedmon's Song follows two characters and their mysterious connection.On a balmy June night, Kirsten, a young university student, strolls home through a silent moonlit park.
Suddenly her tranquil mood is shattered as she is viciously attacked.
When she awakes in hospital, she has no recollection of that brutal night.
But then, slowly and painfully, details reveal themselves - dreams of two figures, one white and one black, hovering over her; wisps of a strange and haunting song; the unfamiliar texture of a rough and deadly hand . . . In another part of England, Martha Browne arrives in Whitby, posing as an author doing research for a book.
But her research is of a particularly macabre variety.
Who is she hunting with such deadly determination? And why?
Information
Format: Paperback
Pages: 336 pages
Publisher: Pan Macmillan
Publication Date: 01/08/2013
Category: Crime & mystery
ISBN: 9781447225478
Free Home Delivery
on all orders
Pick up orders
from local bookshops
Reviews
Showing 1 - 1 of 1 reviews.
Review by SquirrelHead
27/08/2015
I should pay better attention when I order books. This is a novel by Peter Robinson, the Yorkshireman who writes the Inspector Banks series. This book, Caedemon's Song, did not feature Banks at all and I have to say I was disappointed when I realized this. But….my fault for not carefully reading the description before I clicked "buy", right?Robinson stated he wanted to take a break from the DCI Banks series and write from the victim's point of view, rather than the police procedural type. The premise of this story revolves around a young lady named Kirsten who was brutally attacked one evening as she walks home alone through a park. The wounds she suffers are horrific. She survived only because she was found by a man walking his dog, otherwise she would have bled out. Kirsten wakes up in hospital over a week later, unaware of what happened to her. She has no memory of the attack. Her parents are in the hospital room with her, concerned about the injuries and how they will affect the rest of her life. The police question her, desperate to find her attacker but no matter how hard she tries she has no recollection of that night.More women are attacked but they do not survive. Kirsten undergoes hypnotic therapy and slowly, the nightmare of the attack and details surface. She provides the police with as much detail as she cares to share with them but decides she has her own agenda as far as her attacker goes. I can't reveal any more without spoiling the storyline.I am a big fan of Peter Robinson but I will say I prefer the Inspector Banks series over this story. Well written, kept me reading and the first clue confirming what I suspected didn't appear until 30 pages before the end. So that's good, the reader didn't have it all figured out early on.