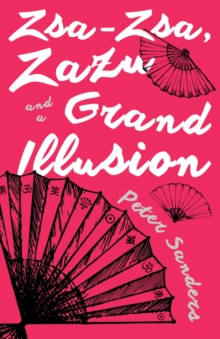 Zsa-Zsa, Zazu and a Grand Illusion
Paperback / softback
Description
Zsa-Zsa, Zazu and a Grand Illusion is a fabulous story set in two palaces.
The first is The Palace Theatre, where a magician, the Great Gizmo, has gone missing, leaving a pile of debts; the second is a palace, somewhere and sometime in the Orient where a ghastly Dowager Empress has taken over the running in the Emperor's absence.
Trying to remove any trace of the old court, she asks her new magician Malodorous to use the `Great Fan of Being and Unbeing' to annihilate the five `Teadragons' - guardians of the Imperial Treasury.
They escape total oblivion with the help of Zazu, the oddest bird you'll encounter.
Back at the theatre, where protagonist Zsa-Zsa has suddenly woken up in a plush seat, some very strange things are happening, with the forced landing of a flying boat and a travelling clock that materializes out of nowhere.
All is explained by Obadiah, the stage door hand, by his theory of `Wobblement' - when all the theorems and formulae that govern the known and unknown world just need a rest and go on a break for a while.
The two storylines collide in the theatre, where the bird and Zsa-Zsa meet the Emperor, his clockmaker and ethereal engineer, Failsworth, and the loathsome Dowager Empress and her lickspittle Malodorous.
Oh yes! And a pantomime horse and some repulsive slugs... Although the story is essentially a fantasy - featuring a travelling clock whizzing through space, a bird unsure whether it's a machine or an animal, Teadragons who are vaporised on to a rug, a magic fan - it also lets the reader gently question the nature of time and magic in this world or indeed others and whether machines can develop consciousness.
Zsa-Zsa, Zazu and a Grand Illusion is a young adult novel, similar in tone to Catherynne M.
Valente's `Fairyland' series, that will appeal to fans of the surreal and the fantastical.
Information
Format: Paperback / softback
Pages: 160 pages
Publisher: Troubador Publishing
Publication Date: 19/10/2017
Category: Fantasy
ISBN: 9781785898426
Free Home Delivery
on all orders
Pick up orders
from local bookshops