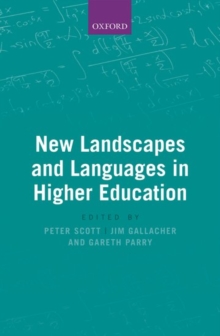 New Languages and Landscapes of Higher Education
Hardback
Description
The landscapes of higher education have been changing rapidly, with enormous growths in participation rates in many countries across the world, and major developments and changes within institutions.
But the languages that we need to conceptualise and understand these changes have not been keeping pace.
The central argument in this book is that new ways of thinking about higher education, the new languages of its title, are needed to understand the role of universities and colleges in contemporary society and culture and the global economy, new landscapes.
Over-reliance on existing conceptualisations of higher education, has made it difficult to understand fully the nature of 21st-century higher education.
It may also have encouraged a view that there is no alternative to the development ofmore marketized forms of higher education.
The analysis offered suggests that the future is much more open. It argues that familiar categories, normally accepted as givens, are actually more fluid. 'Systems' of higher education, whether expressed through direct public funding or through regulatory regimes, are being eroded. 'Institutions', often assumed to be to be given enhanced agency by more corporate forms of management and governance), are no longer powerful actors, if they ever were. 'Research', often corralled by assessment and management systems, is becoming more diffuse and distributed. 'Learning', supposedly more focused on skill outcomes and employability, retains a more broadly educative function.
The 'publicness' of higher education has not disappeared as public funding has diminished, but taken on new forms. With contributions from leading figures, drawn from a wide range of countries, this book provides an authoritative analysis of many of the major issues which dominate discussion with respect to policy, practice and research in the field of higher education, and it can expect to become a major source book for all who are interested in the development of higher education in the 21st Century.
Information
Format: Hardback
Pages: 288 pages
Publisher: Oxford University Press
Publication Date: 22/12/2016
Category: Educational strategies & policy
ISBN: 9780198787082
Free Home Delivery
on all orders
Pick up orders
from local bookshops