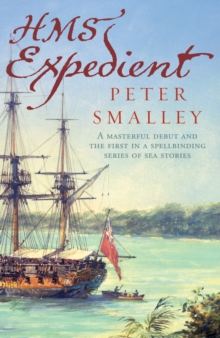 Description
1786: Captain William Rennie is on the beach and on half pay when he's given a prime commission: HMS Expedient is a 36 gun frigate; she is to be sent to the South Seas on a scientific expedition. For Lieutenant James Hayter, in Dorsetshire, whose career had barely begun when the peace came, his own commission in Expedient out of the blue is equally surprising and exciting.
But for these two sea officers there is something odd and disturbing about the nature of their task.
They sense that they are not being told the whole truth about the forthcoming expedition, and the shady, powerful figure of Sir Robert Greer is always at their backs.
Is someone trying to sabotage their mission? Why is their progress dogged by a mysterious man of war? And what are the secret orders locked in Rennie's cabin which may only be opened once they round the Cape of Good Horn?The answers lies on a beautiful uncharted island, in the remotest corner of the Pacific immensity, to which the storm-battered Expedient limps for desperately needed repairs.
Soon the dangers of the voyage will pale in comparison with what they discover there, across the limpid waters of the lagoon...
Information
Format: Paperback
Pages: 416 pages
Publisher: Cornerstone
Publication Date: 01/05/2006
Category: Historical fiction
ISBN: 9780099474173
Free Home Delivery
on all orders
Pick up orders
from local bookshops
Reviews
Showing 1 - 1 of 1 reviews.
Review by daleala
27/08/2015
1786: Captain Rennie has been on the beach for 4 years after being ignored by the Admiralty after the glorious battle of the Saints.Out of the blue, he is given the comission aboard 36 gun "Expedient", with Lieutenant Hayter as his first lieutenant.They are sent to the South Seas on an scientific expidition.But there is something odd about their comission. They are given orders which they are not allowed to open until they are well under way, the equipment they are given fails and the guns are exploding as they are being test fired, and they are being followed by a strange man-o-war, which never gets close, but is always just there, on the horizon.The answers all come to a head after a storm, when damaged Expedient limps for repairs to an uncharted island in the corner of the Pacific.Overall the book was great, it started off fairly well, became fast paced towards the middle and end of the book, but the ending was a little disappointing. Overall though, 4/5, the book kept my attention and I am looking forwards to reading more of Peter Smalley's books.