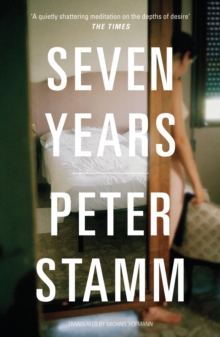 Description
Alex is caught between two very different women. Sonia, his wife, is intelligent, beautiful, charming and ambitious and together they have established a successful architectural firm and a life of easy luxury.
But in the background is Ivona, who is dull, plain and passive.
The only thing she offers Alex is her love, unconditionally, which inspires in him a queasy mixture of repulsion and passion.
Alex knows he must make a choice, but when Ivona becomes pregnant, life takes an unexpected turn which leaves him more puzzled than ever by the mysteries of desire.
Information
Format: Paperback
Pages: 272 pages
Publisher: Granta Books
Publication Date: 01/04/2013
Category: Classic fiction (pre c 1945)
ISBN: 9781847085108
Free Home Delivery
on all orders
Pick up orders
from local bookshops
Reviews
Showing 1 - 1 of 1 reviews.
Review by Widsith
27/08/2015
Well this is one of those novels that just makes me wonder if professional reviewers are completely fucking high – or if we even read the same book. I thought the plot was tedious and oppressive, the characters deeply unlikeable, and the prose stylistically barren. I am giving it two stars because most of this is deliberate and therefore competently done – Stamm is apparently one of those writers who thinks that the best way to reflect the disorientation of the modern world is to write books that hold everything at arm's length and relate all narrative in the same dull monotone. (He reminds me a little of Michel Houellebecq, although the papers prefer to make unwise comparisons with Camus.) Dialogue is stripped of quote marks and bunched together in single paragraphs for extra literary cred:<i>I asked her if she didn't want to call ahead to set up interviews, but she shook her head. The best thing was just to drop by, once people saw you they had more trouble saying no to you. You mean your beauty will win them over? She looked at me furiously. That's mean, I can't help the way I look. I said it could be worse, and laid my hands on her shoulders and pulled her against me, and now she hugged me and kissed me properly. She asked if I'd slept well. I said, I dreamed about you. That's not true, admit it.</i>End paragraph. Anthony Cummins of the Observer thinks this is a good way of 'keeping us on our toes'. Well I'm as <i>en pointe</i> as the next reader, but the issue is not that it's confusing, it's that it's irritating and it makes everything tonally flat.It is possible to write about the cold, dead detachment of modern life in an engaging way – JG Ballard does it, but that's because he writes sentences full of compressed wit and unusual simile. Stamm's prose is described by fans as being 'sparse' or 'economical' or 'cool' but the reality is that it's just extremely boring. <i>The New Statesman</i> actually quotes the following as an example of his flair for 'the apparently innocent descriptive sentence that comes saturated in mental atmosphere':<i>Sometimes, when Sonia was in bed already, I would go for a walk down to the Academy, and sit by the shore and think about my life, and how it could have been different.</i>Really? That's a sentence we should be admiring? ARE YOU FUCKING KIDDING ME. Sometimes, when Sonia was in bed already, I would go for a walk down to the Academy, and sit by the shore and think about my life, and how it could have been different. I don't even know how to argue with someone who puts this forward as an example of great writing. My two-year-old daughter's analysis of <i>Frozen</i> is more profound than this plodding description of one moron's trivial mid-life crisis.The whole plot is in fact staggeringly banal: a man is married to a gorgeous but inhibited woman and he has an affair with an 'ugly' Polish immigrant because he can. This is 'far from being merely another novelistic account of an affair', according to Toby Litt in the <i>Guardian</i> – 'what helps it transcend this is one of the great characters of contemporary fiction', namely Ivona, the Polish Other Woman.I mean…what. The mind boggles. Ivona is the opposite of a great character of contemporary fiction. A useless character of historical biography, perhaps. She says about three words in the entire novel, and is characterised wholly by her unmotivated and implausible adoration of our protagonist. She is a symbol of lower-class pathos with no personality of her own.Once again I found Michael Hofmann's translation just okay, with a few clunky moments. Hilariously, Sarah Fay in the <i>New York Times</i> writes about Hofmann's 'conscientious translations, which even maintain the comma splices that occur regularly in German but appear as grammatical errors in English' – but because she has already decided this is a work of near-genius, she concludes that this stylistic mis-step must be 'a device that serves to illustrate the frailty of the characters' perceptions'. Bullshit. And if it were true, it would still be a mistake, since by her own argument it's an effect not present in the original.I am sick to death of these writers who think stylelessness is an acceptable style, and of these coolly distant novels that think emotional detachment is the best way to explain emotional detachment. And I didn't even get around to mentioning the laboured architectural metaphors…actually you know what, fuck it, I'm downgrading this to one star. Enough.