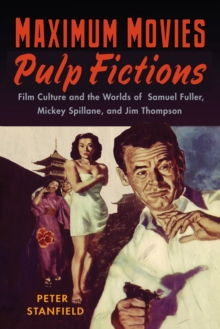 Maximum Movies - Pulp Fictions : Film Culture and the Worlds of Samuel Fuller, Mickey Spillane, and Jim Thompson
Paperback / softback
Description
In the words of Richard Maltby . . . ""Maximum Movies--Pulp Fictions describes two improbably imbricated worlds and the piece of cultural history their intersections provoked."" One of these worlds comprises a clutch of noisy, garish pulp movies-Kiss Me Deadly, Shock Corridor, Fixed Bayonets!, I Walked with a Zombie, The Lineup, Terror in a Texas Town, Ride Lonesome-pumped out for the grind houses at the end of the urban exhibition chain by the studios' B-divisions and fly-by-night independents.
The other is occupied by critics, intellectuals, cinephiles, and filmmakers such as Jean-Luc Godard, Manny Farber, and Lawrence Alloway, who championed the cause of these movies and incited the cultural guardians of the day by attacking a rigorously policed canon of tasteful, rarified, and ossified art objects.
Against the legitimate, and in defense of the illegitimate, in an insolent and unruly manner, they agitated for the recognition of lurid sensational crime stories.
War pictures, fast-paced Westerns, thrillers, and gangster melodramas were claimed as examples of the true, the real, and the authentic in contemporary culture--the foundation upon which modern film studies sits.
Free Home Delivery
on all orders
Pick up orders
from local bookshops