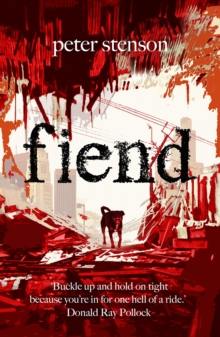 Description
Breaking Bad meets Night of the Living Dead in this manically energetic, stunningly written debut that pits a crystal meth addict against the zombie apocalypse. When Chase sees the little girl in umbrella socks savaging the Rottweiler, he`s not too concerned.
As someone who`s been smoking meth every day for as long as he can remember, he`s no stranger to such horrifying, drug-fueled hallucinations.
But the little girl is no illusion. The end of the world really has arrived. And with Chase`s life already destroyed beyond all hope of redemption, armageddon might actually be an opportunity - a last chance to hit restart and become the person he once dreamed of being.
Soon Chase is fighting to reconnect with his lost love and dreaming of becoming her hero among the ruins.
But is salvation just another pipe dream? Propelled by a blistering voice and featuring a powerfully compelling anti-hero, Fiend is at once a brilliant portrait of addiction, a pitch-black comedy, and the darkest, most twisted love story you`ve ever read - not to mention one hell of a zombie novel.
Information
Format: Paperback
Pages: 304 pages
Publisher: Cornerstone
Publication Date: 05/06/2014
Category: Horror & ghost stories
ISBN: 9780099558835
Other Formats
Hardback from £11.25
EPUB from £7.99
Free Home Delivery
on all orders
Pick up orders
from local bookshops
Reviews
Showing 1 - 1 of 1 reviews.
Review by calum-iain
16/06/2015
This first novel from Peter Stenson, published by Windmill Books, is a gritty, horrific episodic mash-up of gut-munching zombie apocalypse and psyche-annihilating meth-amphetamine addiction. The story centres on a pair of hopeless tweakers, Chase and Typewriter, who're both desperate addicts. Hidden behind their blacked-out windows in speed-induced euphoria the pair spin through the zombie apocalypse, only realising that something's amiss when they see a small girl chewing on the intestines of a dog. The pair flee and journey towards the home of the Albino, the best meth-cook in the State, having worked out that the only survivors of the epidemic are meth-heads – something in the drug making addicts immune to the zombie virus. Teaming-up along the way with other freaked-out tweakers, including Chase's ex-girlfriend and insatiable meth-hoover KK, they form a band of the least well-equipped people to survive the apocalypse and guarantee the future of humanity. Peter Stenson's novel is a strange mix of "Breaking Bad" and "The Walking Dead" and a strange mix of horror pulp thriller and literary allusion. The style is fast and fierce and full of drug underworld slang, with Stenson taking a minimalist approach to dialogue and the normal conventions of punctuation, which gives the narrative a rushing dynamism totally in keeping with the subject matter. The use of speed-induced internal monologues brilliantly illustrates the effects and allure of crystal meth while also building up a picture of how Chase spiralled into the horror and lunacy of addiction. Stenson builds up both a sensitive and ugly backstory using this technique and slides it into the narrative so subtly and cleverly as to be almost unseen. The story is also unsparing in its use of bloody splashes of flesh-eating horror and in its depiction of the thrills, joys, ugliness and sordid hopelessness of the meth-addict lifestyle. The story really flies in its use of tone and language, but Stenson seems to struggle with where he's taking the narrative. The protagonists move from location to location, fend off zombies, argue with each other and simply get high wherever and whenever they can. The ending of the story is a touch abrupt and a touch unsatisfying leaving the story hanging and the final motivations a more than a little unclear. Despite that slightly unsatisfying ending "Fiend" is a great read, full of breakneck pace, inventive language and gritty, grisly tone. It is a great piece of literary apocalyptic horror and one of the best books to have appeared in the recent zombie glut.