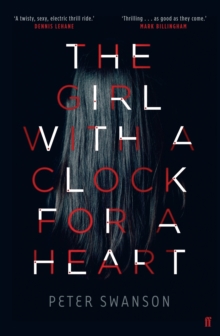 The Girl With A Clock For A Heart
Hardback
Description
George Foss never thought he'd see her again, but on a late-August night in Boston, there she is, in his local bar, Jack's Tavern.
When George first met her, she was an eighteen-year-old college freshman from Sweetgum, Florida.
She and George became inseparable in their first fall semester, so George was devastated when he got the news that she had committed suicide over Christmas break.
But, as he stood in the living room of the girl's grieving parents, he realized the girl in the photo on their mantelpiece - the one who had committed suicide - was not his girlfriend.
Later, he discovered the true identity of the girl he had loved - and of the things she may have done to escape her past.
Now, twenty years later, she's back, and she's telling George that he's the only one who can help her...In his electrifying debut, Peter Swanson evokes the spirit of Body Heat and Double Indemnity, in a thriller about love, loss and those memories we hold closest to our hearts. '...it was like I had a secret disease, or there was this clock inside of me, ticking like a heart, and at any moment an alarm would go off...'
Information
Format: Hardback
Pages: 304 pages
Publisher: Faber & Faber
Publication Date: 29/01/2014
Category: Crime & mystery
ISBN: 9780571301881
Other Formats
Paperback from £7.15
EPUB from £5.58
CD-Audio from £15.45
Free Home Delivery
on all orders
Pick up orders
from local bookshops
Reviews
Showing 1 - 1 of 1 reviews.
Review by shelleyraec
16/06/2015
It has been twenty years since George Foss last saw the first girl who broke his heart. He and Audrey were inseparable for the first semester of college but over the Christmas break he was devastated to discover he never really knew her at all, not even her real name. In the intervening years he has both dreamed of, and dreaded the idea of, seeing her again and now she sits across from him, Liana Dector, begging for his help. George knows he should turn Liana away, she is a con woman, a fugitive, suspected of murder, but he finds he can't resist and is soon ensnared in her web of lies, theft, violence and betrayal.Swanson justifies George's willingness to become involved with Liana's manipulations in the present by illustrating the fervour of their short-lived college romance. Despite time and truth, George's youthful obsession with the enigmatic Liana has barely faded and given the opportunity to be her hero, to save her, and perhaps win her back, he disregards the danger to himself. In part his involvement is also a manifestation of a mid life crisis, George's life has been ordinary, and he has never recaptured the intensity of his time with Audrey/Liana. I believed in George's motivation to help Liana but I can't say I understand his compulsion, as such I didn't really engage fully with him.Liana is a classic femme fatale, a manipulative, intelligent, seductress who uses men to get what she wants. As the narrative shifts between George and Liana's past and their reunion, the author slowly exposes her history, though never really confirming what George, or the reader, suspects, and makes it clear that she can't be trusted.As such the twist to the tale is not entirely unexpected but it does have impact. There is no tidy resolution to The Girl With a Clock For a Heart, leaving Swanson the opportunity to revive the characters at a later date. I don't mind an open ending, and think in this case it is appropriate, but it may irritate some readers.The Girl with a Clock for a Heart has a noir-ish feel which is evident in his characterisation and Peter Swanson's admiration for Hitchcock shows in his storytelling. It didn't grip me but the novel is an easy read and a solid debut thriller.