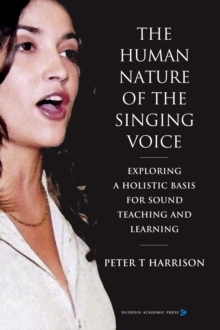 The Human Nature of the Singing Voice : Exploring a Holistic Basis for Sound Teaching and Learning
Paperback
Description
Human beings have a deeply ingrained desire to sing, and the human voice has inspired composers to write some of their most beautiful music.
But what is 'the true singing voice'? Why do some voices 'work' while others do not? How do we 'discover' our singing voice, and how can singing teachers most effectively train their pupils' voices when it seems such a demanding individual and personal matter?
Peter Harrison starts from the holistic principle that human beings are 'designed' to sing and believes that through our voices we are able to communicate our collective as well as our individual humanity.
In "The Human Nature of the Singing Voice" he offers a fresh and lively insight to the understanding of the voice with which we were born for those who seek a comprehensive and sustainable basis for their work.
In this major new exploration the author interrelates all aspects of singing, including breathing, emotional expression, the articulation of words and musical interpretation.
He also outlines what can be expected of those responsible for teaching singers and of those eager to learn. Invaluable to teachers and singers, and of more than passing interest to all those who work with singers and care for their voices, "The Human Nature of the Singing Voice" provides thought provoking ideas on how we can learn to liberate and enjoy our voice whilst offering practical advice for the proper maintenance of the voice in our daily life and professional work.
Free Home Delivery
on all orders
Pick up orders
from local bookshops
Also by Peter T. Harrison