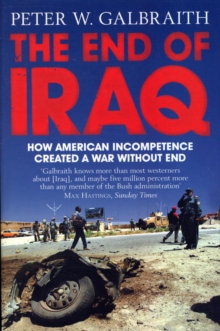 The End of Iraq : How American Incompetence Created a War Without End
Paperback
Description
The invasion of Iraq by American, British and other coalition forces has indeed transformed the Middle East, but not as the Bush and Blair administrations had imagined.
It is Iran, not Western-style democracy, that has emerged as the big winner, creating a Tehran-Baghdad axis that would have been unthinkable before the war.
THE END OF IRAQ is the definitive account of the US and UK's catastrophic involvement in Iraq, as told by America's leading independent expert on the country.
Peter Galbraith reveals in exquisite detail how US policies -- some going back to the Reagan administration -- have now produced a nearly independent Kurdistan in the north, an Islamic state in the south, and uncontrollable insurgency in the centre, and an incipient Sunni-Shiite civil war that has Baghdad as its central front.
Iraq, Galbraith argues, cannot be reconstructed as a single state.
Instead, a sensible strategy must accept that it has already broken up and focus instead on stopping an escalating civil war.
Unflinching, accessible and powerful, THE END OF IRAQ explores and explains the myriad mistakes and false assumptions that have brought the country to its current pass, and what must be done to prevent further bloodshed.
Information
Format: Paperback
Pages: 288 pages
Publisher: Simon & Schuster
Publication Date: 05/03/2007
Category: Middle Eastern history
ISBN: 9781416526254
Free Home Delivery
on all orders
Pick up orders
from local bookshops
Reviews
Showing 1 - 1 of 1 reviews.
Review by furriebarry
16/06/2015
Peter Galbraith can not see any hope in continuing to work towards a united and secular Iraq and after reading this book I agree with him. Scathingly critical of the Bush administration for its constant blunders and prioritising cheap shallow PR gains for real strategies PG says that this is a war which the US can not win. He argues that Iraq is already at civil war and has effectively split into three states already. While he sees some ways forward in cartain areas the fact that he has no answers on how to deal with Baghdad, the increasing Iranian influence in the South or the international problems created by an increasingly independent Kurdistan suggest that we are all going to be hearing about this region for decades to come.
Also by Peter W. Galbraith