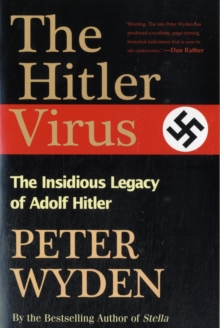 The Hitler Virus : The Insidious Legacy of Adolph Hitler
Paperback / softback
Description
More than a half-century after Adolf Hitler committed suicide in a Berlin bunker, the dictator's legacy and influence lives on, precisely as he predicted before putting the gun to his head.
In the spring of 1945, as it became increasingly clear that the Nazi cause was lost, Hitler dictated his final political testament to his secretary: "Out of my personal commitment the seed will grow again one day, one way or another, for a radiant rebirth of the National Socialist movement in a truly united nation".
The next day, Hitler ended the Nazi regime by committing suicide.
Respected author and publisher Peter Wyden, who himself escaped the Nazis, has returned to Germany many times over the years and, to his dismay, he has found evidence that Hitler's last testament was startlingly accurate.
Though the Nazi cause had been exposed and vilified worldwide, it is still clandestinely cherished by many. In the process of documenting manifestations of Hitler's far-reaching influence, which he termed the "Hitler virus", Wyden discovered that its carriers were not merely to be found among the older generation but an alarming number of outbreaks of the virus are among the young adults, who find in Hitler a moral and spiritual guide, aided and abetted by a new breed of right-wing academics who make the rewriting of history their mission and a new generation of politicians whose agendas are frighteningly close to those of young Hitler.
In these often chilling pages, Wyden recounts the results of his research and points out that the Hitler virus is, indeed, still a cause for concern worldwide.
Information
Format: Paperback / softback
Pages: 336 pages
Publisher: Skyhorse Publishing
Publication Date: 16/02/2012
Category: European history
ISBN: 9781611453225
Free Home Delivery
on all orders
Pick up orders
from local bookshops