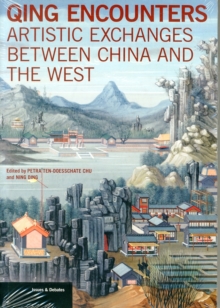 Qing Encounters - Artistic Exchanged between China and the West
Paperback / softback
Description
Qing Encounters: Artistic Exchanges between China and the West examines how the encounters between China and Europe in the eighteenth and early nineteenth centuries transformed the arts on both sides of the East-West divide.
The essays in the volume reveal the extent to which images, artifacts, and natural specimens were traded and copied, and how these materials inflected both cultures' visions of novelty and pleasure, battle and power, and ways of seeing and representing.
Artists and craftspeople on both continents borrowed and adapted forms, techniques, and modes of representation, producing deliberate, meaningful, and complex hybrid creations.
By considering this reciprocity from both Eastern and Western perspectives, Qing Encounters offers a new and nuanced understanding of this critical period.
Information
Format: Paperback / softback
Pages: 316 pages
Publisher: Getty Trust Publications
Publication Date: 29/09/2015
Category: General arts
ISBN: 9781606064573
Also by Petra Ten-Doesschate Chu