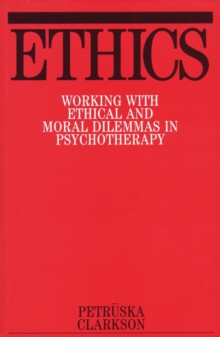 Ethics : Working with Ethical and Moral Dilemmas in Psychotherapy
Paperback / softback
Description
This work brings together a wide range of perspectives on ethics and morality from formal research studies of practitioners' dilemmas to theoretical and philosophical explanations of the ethics of psychotherapy.
Numerous practical and thought-provoking insights from 25 years of professional experience in these fields aim to make this a useful text for any student, client, trainer, supervisor or practitioner.
There are also useful examples of thinking structures for the analysis, learning and understanding of ethics as well as a selection of ethical dilemmas for practice and training, supervision, research and other professional purposes.
Based on current research in psychotherapy outcome, this volume also places under the spotlight issues such as the relative importance of theoretical approaches to psychotherapy, and the relevance of values and ideology and the interests of professionalisation as well as the interests of patients.
The books focus is the uses and abuses of the therapeutic relationship - the heart of the matter - across all disciplines and across all approaches. Its Copernican contribution is to conceptualise ethics not as a kind of "add on" to therapy, but as the sun around which the work of psychotherapy and psychoanalysis revolves.
Sole or jointly authored chapters include research on ethical dilemmas, issues of values and responsibility, supervision, training and research and collegial relationships, examples of documents to give to clients or supervisees, writing for publication (and its pitfalls), as well as dilemmas involving the ethics and complaints procedures of professional bodies such as UKCP organizations.
Free Home Delivery
on all orders
Pick up orders
from local bookshops