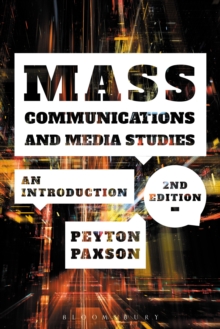 Mass Communications and Media Studies : An Introduction
Paperback / softback
Description
Mass Communications and Media Studies: An Introduction, 2nd edition is a comprehensive yet concise survey of the history of mass communication media, discussing the current state of each medium, and anticipating the future of mass media.
Divided into twelve chapters, it can be used in either 16-week semesters or 12-week terms.
Retaining the successful organization of the 1st edition, Peyton Paxson writes in an accessible and well-organized manner, catering to both the needs of students and instructors.
He begins each chapter with a list of the current issues and trends concerning the chapter's topic, followed by a brief history of that topic, its current state, predictions for the future, an assessment of career opportunities, and discussion questions for critical thinking.
More than just updating statistical data, the 2nd edition weaves in discussions of relevant contemporary issues, including crowdsourcing, going 'viral', interactive advertising, tv industry consolidation, 'the internet of things', conflicting ideas of net neutrality and their continuing implications in a more-connected world.
Information
Format: Paperback / softback
Pages: 336 pages, 50 bw illus
Publisher: Bloomsbury Publishing Plc
Publication Date: 17/05/2018
Category: Communication studies
ISBN: 9781501329982