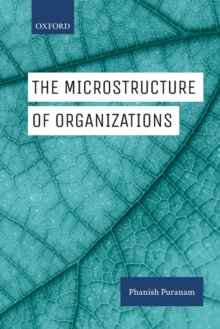 The Microstructure of Organizations
Paperback
Description
This book synthesizes a decade of research by the author into the fundamental issues in organization design and presents it in the form of a new perspective - known as the micro-structural perspective. The micro-structural approach to organization design aims to both expand and narrow current thinking.
It takes an expansive view on the kinds of phenomena that can be studied in terms of organization design: besides traditional topics like inter-divisional collaboration, subsidiary-headquarter relationships, and re-organizations, this approach has also been used to fruitfully analyse cross-functional teams, strategic partnerships, buyer-supplier relations, alliance networks, mega-projects,post-merger integration, business groups, open source communities, and crowdsourcing. At the same time, the micro-structural approach narrows our focus by abstracting away from the variety and complexity of organizations to a few fundamental and universal problems of organizing (that relate to how they aggregate their members' efforts), as well as a few reusable building blocks, called micro-structures (which capture common patterns of interaction between members of an organization).
The complexity and variety of organization designs, this approach claims, can be understood interms of these simpler elements. The author provides concepts, tools, and methodologies for this new perspective.
The book will be of interest to researchers and PhD students in management, organization science, and strategy.
Information
Format: Paperback
Pages: 224 pages
Publisher: Oxford University Press
Publication Date: 20/06/2018
Category: Business strategy
ISBN: 9780199672370
Free Home Delivery
on all orders
Pick up orders
from local bookshops