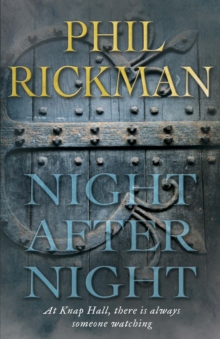 Night After Night
Hardback
Description
Contains scenes some viewers may find disturbing...
Leo Defford doesn't believe in ghosts. But, as the head of an independent production company, he does believe in high-impact TV. Defford hires journalist Grayle Underhill to research the history of Knap Hall, a one-time Tudor farmhouse that became the ultimate luxury guest house...until tragedy put it back on the market.
Its recent history isn't conducive to a quick sale, but Defford isn't interested in keeping Knap Hall for longer than it takes to make a reality TV show that will run night after night... A house isolated by its rural situation and its dark reputation.
Seven people, nationally known, but strangers to one another, locked inside.
But this time, Big Brother may not be in control.
Information
Format: Hardback
Pages: 528 pages
Publisher: Atlantic Books
Publication Date: 22/10/2014
Category: Horror & ghost stories
ISBN: 9780857898692
Free Home Delivery
on all orders
Pick up orders
from local bookshops
Reviews
Showing 1 - 2 of 2 reviews.
Review by cathyskye
16/06/2015
As a reader of Phil Rickman's Merrily Watkins series, I've come to admire him for his ability to create a true sense of unease, of chills down the spine, of things just glimpsed out of the corner of the eye. He does this, yet keeps the story grounded in the real world. He does that again in Night After Night. As Grayle Underhill begins her investigation into the 500-year-old Knap Hall, Rickman was succeeding brilliantly at making me very uneasy about the ancient Tudor farmhouse. In fact, I was reminded of one of my favorite novels, Shirley Jackson's The Haunting of Hill House. I couldn't wait for all those celebrities to be locked inside that house-- and this is as close as I'll ever come to liking reality TV!Unhappily for me, I found my sense of unease to abate quickly. The story goes into quite some detail about choosing the celebrities and preparing for filming, which I did find interesting, but all that detail took away from the unsavory history of Knap Hall and the feeling that unspeakable things were about to happen.Instead of things going bump in the night as I'd hoped, the story centered on all the secrets of the celebrity inhabitants. True to Rickman's usual style, the "scary stuff" was all rooted in the real world, but without that carryover of unease and dread to buoy the story, I felt a little bit let down. Night After Night is still an engrossing read, but the wow factor was missing for me.
Review by TheBentley
27/08/2015
There's no such thing as a lousy Phil Rickman book, so most of his works start out at four stars with me on here. But as good as Rickman is at the Merrily Watkins supernatural mysteries, I've always believed that where he really shines is in the stand-alone horror novels like December. Like December, Night After Night is a very modern collision of pop culture and ancient secrets, a collision that Rickman handles flawlessly and with a characteristic subtlety that makes the creeping dread hard to walk away from even to get some sleep. Outstanding ghost story that blends a very British restraint with an almost American horror sensibility. A must-read for fans of the genre.