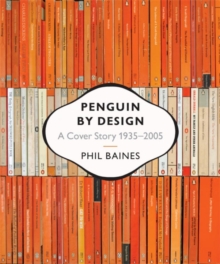 Penguin by Design : A Cover Story 1935-2005
Paperback
Description
Ever since the creation of the first Penguin paperbacks in 1935, their jackets have become a constantly evolving part of Britain's culture and design history.
Rich with stunning illustrations and filled with detail of individual titles, designers and even the changing size and shape of the Penguin logo itself, this book shows how covers become design classics.
By looking back at seventy years of Penguin paperbacks, Phil Baines charts the development of British publishing, book cover design and the role of artists and designers in creating and defining the Penguin look.
Coupling indepth analysis of designers - from Jan Tschichold to Romek Marber - with a wide-ranging look at the range of series and titles published - from early Penguins and Pelicans, to wartime Specials, fiction and reference, this is a distinctive picture of how Penguin has consistently established its identity through its covers, influenced by - and influencing - the wider development of graphic design and the changing fashions in typography, photography, illustration or printing techniques.
Filled with inspiring images, Penguin by Design demonstrates just how difficult it is not to judge a book by its cover.
Information
Format: Paperback
Pages: 256 pages
Publisher: Penguin Books Ltd
Publication Date: 05/05/2005
Category: Graphic design
ISBN: 9780713998399
Free Home Delivery
on all orders
Pick up orders
from local bookshops
Reviews
Showing 1 - 3 of 3 reviews.
Review by wyvernfriend
16/06/2015
I really enjoyed this look through the design of the Penguin Covers (and love the use of book spines to create a typical penguin cover!) This only falls down with the use of orange text for footnotes (sidenotes really) and personality/place photographs, I found them fairly difficult to read against the white, normally this wouldn't lose a book a full point, but this is a book criticising typography and style.It's an interesting wander through the different cover art and uses of the logo. Now I want to find a copy of the Penguin Knitting book by James Norbury, I love the penguin logo on that book as much as I like the look of the book, I reckon there's entertainment potential there.A book for book, printing and typography geeks.
Review by eleanor_eader
16/06/2015
This is a gorgeous book… as a bookbinder, I try not to enthuse too much about cover-art since I know it's the least relevant part of the book to most people (isn't there some sort of saying…) but if ever there was a book to bring up the subject of looks, this is it. I don't know if it was available in hardback, but the paperback cover version is lovely, with mock dust-cover flaps, striking, (there's something about that 'penguin orange') and everything about it makes me want to pick it up and revel in the wonderful book cover illustrations again. *cough* er… was I drooling? Anyway. What you get <i>inside</i> this book is a history of the evolution of Penguin cover design, some of the motivations for lines and imprints introduced, how they both changed and changed <i>with</i> the market, the impact of the war on titles released, changes to the typography both inside and on the front covers of each line; none of which, of course, would mean anything without a history of the company itself, which is given in rather a necessarily potted form; as Baines says in the introduction, there is not enough space to include a complete catalogue of covers – by extension there is not enough room for a full biography of each member of the board, although Allen Lane is given plenty of … oh, god… coverage. Sorry. The book covers used to illustrate these changes are chosen well and there's no chance of flipping pages without stopping to actually examine each cover… Baines is also not afraid to point out flaws as he goes. Penguin's story is one I find fascinating anyway, but I think it's accessibly written and anyone with the vaguest interest in books or graphic design would be won over by the constantly evolving approach to not only catching the paperback reader's eye with artwork, but catching their imagination with a brand that they would always feel had the best shelf appeal.
Review by mearso
16/06/2015
Great book, with lots of lovely pictures, illustrating the developments. mistakes and triumphs of penguin books.</p><p>Very enjoyable to just pore over the covers and spot the ones you've got.
Also by Phil Baines