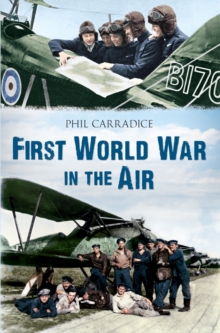 First World War in the Air
Paperback / softback
Description
The four years between 1914 and 1918 saw an incredible growth in air power.
Beginning with the flimsy early aircraft, seemingly held together just by string and fabric, the author paints a picture of a bygone era when nobody knew quite what could be achieved, or how aircraft could be used.
From the early years of the First World War, when men took to the air without guns or parachutes, to the final stage of the conflict when huge, streamlined aeroplane fleets dominated the skies, this is a story of courage and dedication, of sudden death and public adulation for men whose life expectancy was measured in days rather than months.
This book is an account of how the development of aerial warfare took place.
Drawing on much original material such as diaries and combat reports, it charts the growth of air power during the war years. Original photographs and artwork add to the atmosphere of the time.
The air aces, the castor oil and the sudden rattle of machine guns, the Dawn Patrol, Zeppelin raids, dogfights and acts of supreme valour are all here. In wonderful detail, this is the story of how brave young airmen took their lives in their hands and pushed the boundaries of courage and knowledge to the limits.
Information
Format: Paperback / softback
Pages: 192 pages, 158 Illustrations, unspecified
Publisher: Amberley Publishing
Publication Date: 15/09/2012
Category: First World War
ISBN: 9781445605128