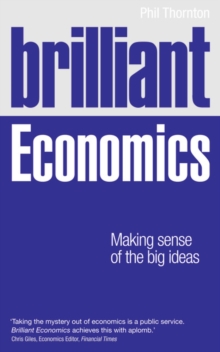 Brilliant Economics : Making sense of the big ideas
Paperback / softback
Description
"Taking the mystery out of economics is a public service.
Brilliant Economics achieves this with aplomb". Chris Giles, Economics Editor, Financial Times "Economics is vitally important in everyday life because we are all living with the consequences of the global crisis, but it's often confusing.
Brilliant Economics is a crystal clear and illuminating guide through the maze of financial jargon and difficult concepts.
It explains in straightforward terms what the economic theories mean and also how they affect the things everybody cares about - jobs, prices, interest rates". Diane Coyle, OBE, Enlightenment Economics and Smith School, Oxford University"Phil writes in a clear manner, simplifying ideas that can be complex.
He has a fine ability to mix relevant and topical observations with more detailed discussions, bringing a topic to life and making it easily understood". Ian Bright, Senior Economist, ING and leader of eZonomics, ING's international consumer economics project Do you know David Ricardo from Adam Smith?
What is the importance of Keynes and Friedman? How can a central government's economic policy impact on your job, your wealth and your happiness? And are some things really too big to fail?In Brilliant Economics, award winning journalist Phil Thornton introduces you to the fundamentals of economics and monetary policy.
It'll help you become more knowledgeable about economics and will give you an awareness that will help you in good times and bad. Economics is the study of the production, distribution, and consumption of goods and services.
But in real terms it affects all of us on a daily basis: what we can buy, where we can live, how our careers develop and where we can go on holiday. Brilliant Economics is your easy-to-understand introduction to the world of economic policy, theory and how these things practically affect you.
Beginning with the basics of economic thinking, the book looks at key theorists and key economic ideas.
It explains how economies grow and why recessions happen.
You'll understand about unemployment and recognise the importance of inflation.
Learn why buying a house may make sense and find out what the real role of governments are, and why they ask you to pay tax.
Information
Format: Paperback / softback
Pages: 256 pages
Publisher: Pearson Education Limited
Publication Date: 11/07/2013
Category: Economics
ISBN: 9781292003030
Also in the Brilliant Business series | View all