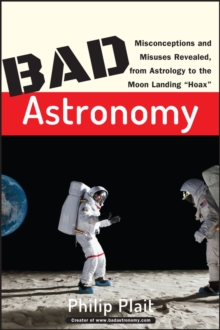 Bad Astronomy : Misconceptions and Misuses Revealed, From Astrology to the Moon Landing 'Hoax'
Paperback
Description
Advance praise for Philip Plait s Bad Astronomy "Bad Astronomy is just plain good!
Philip Plait clears up every misconception on astronomy and space you never knew you suffered from." --Stephen Maran, Author of Astronomy for Dummies and editor of The Astronomy and Astrophysics Encyclopedia "Thank the cosmos for the bundle of star stuff named Philip Plait, who is the world s leading consumer advocate for quality science in space and on Earth.
This important contribution to science will rest firmly on my reference library shelf, ready for easy access the next time an astrologer calls." --Dr. Michael Shermer, Publisher of Skeptic magazine, monthly columnist for Scientific American, and author of The Borderlands of Science "Philip Plait has given us a readable, erudite, informative, useful, and entertaining book.
Bad Astronomy is Good Science. Very good science..." --James "The Amazing" Randi, President, James Randi Educational Foundation, and author of An Encyclopedia of Claims, Frauds, and Hoaxes of the Occult and Supernatural "Bad Astronomy is a fun read.
Plait is wonderfully witty and educational as he debunks the myths, legends, and 'conspiracies that abound in our society. 'The Truth Is Out There' and it's in this book. I loved it!" --Mike Mullane, Space Shuttle astronaut and author of Do Your Ears Pop in Space?
Information
Format: Paperback
Pages: 288 pages
Publisher: John Wiley and Sons Ltd
Publication Date: 19/02/2002
Category: Popular science
ISBN: 9780471409762
Free Home Delivery
on all orders
Pick up orders
from local bookshops
Reviews
Showing 1 - 5 of 5 reviews.
Review by kaelirenee
16/06/2015
Plait is a sci-fi loving astronomer, but there are just some things out there that infuriate him. Bad Astronomy adressed a wide array of misperceptions and flat-out lies in the field. The book ranges from silly ideas from movies (rocketships wooshing through space) to costly mistakes (astrology) to confusions (why IS the sky blue, while clouds are white?) to flat out bad science (creationists). The books is very accessible to non-astronomy buffs. In fact, this was the first major (non textbook) book on astronomy I'd read. The author uses excellent thought experiments to help the reader imagine some very complicated theories and facts.
Review by psiloiordinary
16/06/2015
I know Phil from his blog and sceptical activities around the web so catching up with his book was only a matter of time.Phil has a knack of making the debunking of nonsense witty and interesting. This book is a tour of twenty four misconceptions, myths or downright silly claims.Suitable for both those with little or no scientific knowledge and perhaps those a bit more knowledgeable as his enthusiastic style and cheeky sense of humour make both new and old topics equally stimulating.Great fun.(Plus a good recommended reading section which scores highly with me)
Review by Arthwollipot
16/06/2015
I didn't enjoy this as much as Death From The Skies. There are some interesting facts, and I've already used it as reference material in an argument about why the moon looks big on the horizon, but as a reader it didn't engage me quite as much as his second book did.
Review by FrostKitty
16/06/2015
I absolutely love Phil Plait and this book is beyond wonderful.
Review by quantum_flapdoodle
16/06/2015
Which is more peculiar - a lighthearted book about astronomy, or a lighthearted book that is simultaneously serious? This book manages to be all of the above. Plait takes his astronomy, and his critical thinking, seriously, but he doesn't hesitate to sprinkle heavy doses of humor into the mix - and a couple of times gets perhaps a bit too heavy handed with the humor. A good introduction to many pseudoscientific ideas and conspiracy theories, as well as many bits of honest disinformation. It is readable, something that a high school student could not only understand but enjoy, but not dumbed down to insult audiences who have a bit more background. There are a great many good critical thinking tips provided, as well.