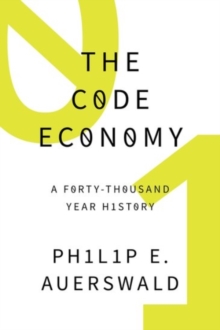 The Code Economy : A Forty-Thousand Year History
Hardback
Description
The "code economy " refers to the evolving technologically-driven environment we live in.
In services or manufacturing, outputs emerge more and more from coded computerized systems and less as assembled mechanical devices and procedures.
Industries seek algorithms to make software not only more pliable for firms' development of products and services, but also to market them and ease their purchase and use by consumers.
This process automates jobs. It givesincreasing economic advantage to entrepreneurs who can harness "code " to serve on the large scale the growing niches into which consumers are organized.
Yet, mastering the "code " also gives individuals and informal social networks the resources to bundle products and services and put them up for sale andconvenient use at more local levels.
The economics of the rest of the 21st century will see the movement away from traditional firms and more toward people's relying on themselves as the sources of their livelihoods. The code economy has clearly not developed in a vacuum.
Invention, innovation, and the pursuit of happiness have characterized human activities for centuries.
What is changing is how societies and individuals radically value endeavors in life differently from even a decade ago, most notably away from industries organized as "command and control " systems.
In The Code Economy, Philip Auerswald investigates how economists themselves have been hard pressed to gauge new economic indices ofsatisfaction that go beyond traditional measures.
He explores how the code or "shared " economy reaches into domains such as health, where greater longevity, the popularization of medical knowledge, and the emphases on preventive care and wellness will complement the delivery of medical services.
Further,living in the code economy will prompt people to orient their children's futures to more self-reliant pursuits and seek investments that truly serve them and not the institutions that have traditionally dominated the financial and economic worlds.
Information
Format: Hardback
Pages: 304 pages
Publisher: Oxford University Press Inc
Publication Date: 08/03/2017
Category: Labour economics
ISBN: 9780190226763