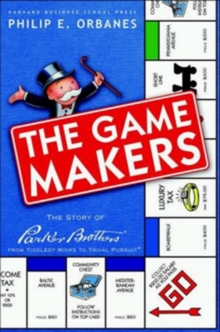 Game Makers : The Story of Parker Brothers, from Tiddley Winks to Trivial Pursuit
Hardback
Description
The Monopoly game, Trivial Pursuit, Clue, Boggle, and Risk are more than games - they're part of Americana.
All of these games were published by one company, Parker Brothers, which began as a dream inside the mind of a sixteen-year-old boy, over one hundred years ago.
In "The Game Makers", industry expert Phil Orbanes reveals how, by adhering to the principles of its founder, Parker Brothers rose to prominence, overcame obstacles, and forged lasting success. Orbanes, a game historian and former executive at Parker Brothers, draws from company archives, interviews with surviving family members, and the newly discovered records of founder George Parker to tell a story rich in examples of business acumen that spans world wars, family tragedy, the Great Depression, and global competition.Pairing Parker's enduring business lessons with little-known historical anecdotes, Orbanes reveals the often whimsical origin of classic games-Tiddledy Winks, Monopoly, Nerf, Sorry!, the modern jigsaw puzzle, and more-and how Parker Brothers turned them into cultural icons. Engaging and insightful, "The Game Makers" explains the rules that popularized the games we play and reveals the people who built an American business empire. "From one who loves games: "The Game Makers" is a real page-turner.
Nobody knows the subject matter better than Phil Orbanes, and it shows.
A most compelling read." - Wink Martindale, host, "Music of Your Life", and veteran host for award-winning game shows such as "Can You Top This", "Tic-Tac-Dough", and "Trivial Pursuit"."Phil Orbanes is a gifted chronicler.
He serves up a tantalizing tale of fast-paced competition, drama, risk, eccentric personalities, and strategy, in one of the world's most competitive industries.
The reader wins!" -Richard C. Levy, author, "The Toy and Game Inventor's Handbook". "In this deeply researched look at the evolution of business practices within the world of 'game makers,' - Phil Orbanes takes readers on a journey in which they will happily recall the joyful hours spent playing the games that rolled off the presses at Parker Brothers." -John J.Fox, Professor Emeritus, Department of History, Salem State College."A classic tale of American entrepreneurship, "The Game Makers" is a detailed study of successful business expansion and an insider's view of the cultural conflict between a corporate parent and its prize acquisition.
This history of Parker Brothers offers something of interest to any serious student of American business practices." -Linda M.
Lemiesz, Ph.D., Dean of Students, The Cooper Union for the Advancement of Science and Arts. "I thoroughly enjoyed Phil Orbanes' journey through the history of Parker Brothers.
Enjoyable and informative, "The Game Makers" is a fascinating account of how one individual's strength of character-or weakness-exerted a significant influence over a company's fortunes." - Ralph H.
Baer, Toy and Game Inventor, and Father of Video Games.
Information
Format: Hardback
Pages: 256 pages
Publisher: Harvard Business Review Press
Publication Date: 01/11/2003
Category: History: specific events & topics
ISBN: 9781591392699
Free Home Delivery
on all orders
Pick up orders
from local bookshops
Also by Philip E. Orbanes