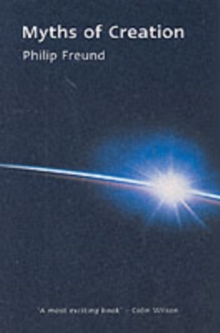 Myths of Creation
Hardback
Description
Myths of Creation is a classic study of mythology, religious belief and scientific theory on the origins of the universe that examines stories from all continents and ages - with all their startling similarities and contrasts - to reveal the workings of the human mind and imagination.
Philip Freund provides revealing insight into the universality of ideas and faith by examining a wide range of texts such as the Old Testament, the Upanishads and Gilgamesh in his search for parallels between creation fables.
Why should a Polynesian have a legend which is almost exactly like one told by a Nordic nomad, or a Brazilian Indian repeat a tale much like that of an Eskimo?
He estimates, for example, that over 500 flood legends have been told by more than 250 tribes and peoples from around the world.
Also here are clear presentations of the theories of towering figures such as Freud, Jung, Frazer, Campbell and Malinowski who have proposed variously that myths are primitive history based on literal fact, a means of expressing profound tribal wisdom and psychological and sexual truth or that they represent a search for kinship with the animal and vegetable world. This (still) controversial study will appeal to a wide group of readers - the naturalist who wonders about the origin of the universe, the fundamentalist who challenges Darwin's theory of evolution, the psychologist intrigued by Freud's and Jung's studies of the subconscious and the literature student who finds mythic parallels in texts widely separated by place and time.
Fascinating and erudite, this revered book ranks among the select handful of core texts in any mythology collection.
Information
Format: Hardback
Pages: 306 pages
Publisher: Peter Owen Publishers
Publication Date: 01/04/2003
Category: Theology
ISBN: 9780720612028
Free Home Delivery
on all orders
Pick up orders
from local bookshops