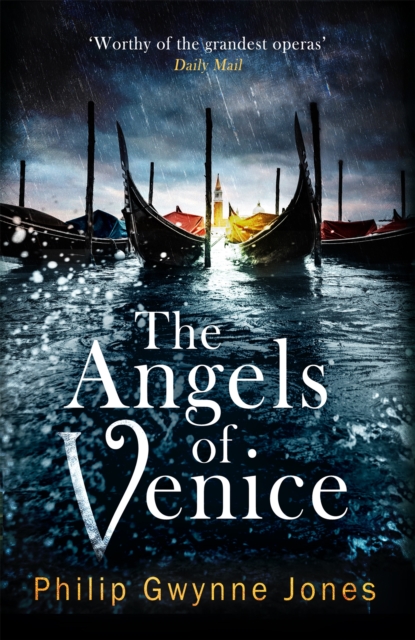 The Angels of Venice : a haunting new thriller set in the heart of Italy's most secretive city
Hardback
Description
'An unputdownable thriller' Gregory Dowling 'It is no surprise to find that Philip Gwynne Jones lives in Venice... art and architecture interweave into a story that builds to an almost surreal climax' Daily Mail 'Gwynne Jones's talent for evoking place and atmosphere is clear as ever' Literary Review_______________It's the night of 12 November 2019.
The worst flooding in 50 years hits the city of Venice. 85% of La Serenissima is underwater. Gale force winds roar across the lagoon and along the narrow streets. And the body of Dr Jennifer Whiteread- a young British art historian, specialising in the depiction of angels in Venetian painting - is found floating in a flooded antique bookshop on the Street of the Assassins. As the local police struggle to restore order to a city on its knees, Nathan Sutherland - under pressure from the British Ambassador and distraught relatives - sets out into the dark and rain-swept streets in an attempt to discover the truth behind Whiteread's death. The trail leads to the "Markham Foundation", a recent and welcome addition to the list of charities working to preserve the ancient city.
Charming, handsome and very, very rich, Giles Markham is a well-known and popular figure in the highest Venetian social circles, and has the ear of both the Mayor and the Patriarch. But a man with powerful friends may also have powerful enemies. And Nathan is about to learn that, in Venice at least, angels come in many forms - merciful, fallen and vengeful... _______________ Praise for Philip Gwynne Jones'I devoured all Philip's novels and felt transported to Venice with a new intimacy' Val McDermid 'Superb - always gripping, beautifully constructed and vivid' Stephen Glover 'Clever and great fun' The Times 'Sinister and shimmering, The Venetian Game is as haunting and darkly elegant as Venice itself' L.S.
Hilton, bestselling author of Maestra 'The Venetian setting is vividly described... good, fluid writing makes for easy reading' Literary Review 'Un-put-downable . . . If you love Venice, you'll love this because you'll be transported there in an instant.
If you've not been to Venice, read this book and then go.
If you like intrigue, and a clever plot, you'll love this book' Amazon reviewer, 5***** 'The lively, colourful narrative scuds along as briskly as a water taxi...you'll enjoy the ride' Italia Magazine
Information
Format:Hardback
Pages:416 pages
Publisher:Little, Brown Book Group
Publication Date:14/07/2022
Category:
ISBN:9780349429298
Other Formats
Paperback / softback from £9.99
EPUB from £5.49
Information
Format:Hardback
Pages:416 pages
Publisher:Little, Brown Book Group
Publication Date:14/07/2022
Category:
ISBN:9780349429298