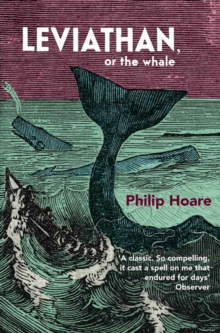 Description
The story of a man's obsession with whales, which takes him on a personal, historical and biographical journey - from his childhood to his fascination with Moby-Dick and his excursions whale-watching.All his life, Philip Hoare has been obsessed by whales, from the gigantic skeletons in London's Natural History Museum to adult encounters with the wild animals themselves.
Whales have a mythical quality - they seem to elide with dark fantasies of sea-serpents and antediluvian monsters that swim in our collective unconscious.In `Leviathan', Philip Hoare seeks to locate and identify this obsession.
What impelled Melville to write `Moby-Dick'? After his book in 1851, no one saw whales in quite the same way again.This book is an investigation into what we know little about - dark, shadowy creatures who swim below the depths, only to surface in a spray of spume.
More than the story of the whale, it is also the story of our own obsessions.
Information
Format: Paperback
Pages: 352 pages
Publisher: HarperCollins Publishers
Publication Date: 11/06/2009
Category: Popular science
ISBN: 9780007230143
Free Home Delivery
on all orders
Pick up orders
from local bookshops
Reviews
Showing 1 - 4 of 4 reviews.
Review by pierthinker
16/06/2015
People become fascinated by the oddest things. Philip Hoare is obsessed with whales. As a young boy he saw the great models of whales at the Natural History Museum in London. As he grew up he found his life and the existence of whales ever crossing and ever having more influence and meaning to him.The core of this book is Hoare's reading of and response to the greatest whale book of them all, Moby Dick. Hoare has a sensitive ear to Melville's language and has researched the bakground to the book and its interaction with history and reality.Hoare works hard to make us like the whale and to see its magnificence through his eyes. Mostly he succeeds. I wish I had known more about whales and had a more intimate relationship with Moby Dick when I read this book.This is a fine book that lets us into the mind and world of an obsessive, letting us see that there is something mysterious and grand to be obsessed about.
Review by P1g5purt
16/06/2015
Our Last Heaven Beast There are any number of possible readings of Moby Dick. The only one that doesn't particularly hold water is "it's about a man's pursuit of a whale". It's unarguably a politically charged allegory that abounds with metaphorical allusions and philosophical asides. Melville appropriates a hoary old myth to hang his metaphysical speculation upon.In an inspired reversal Philip Hoare takes Moby Dick as the framework for an exploration of the history of mans relationship with whales. At times it makes for uncomfortable reading – there's something almost unbearably poignant about the rendering of a whale by a furnace fuelled by its own blubber. Thankfully the catalogue of slaughter is punctuated by fascinating asides – "Leviathan" is as much a collection of facts and curiosities as it is a narrative of the parallel decline of the whaling industry and whales.Whilst he's clearly enamoured with whales he's not some misty-eyed hippy. He's careful to distance himself from some of the more outlandish claims of whale society and religion for instance. Although the Whales are not incidental, in common with Melville, he does have bigger fish to fry ( I know whales are mammals but bear with me ) - The conservationist argument bearing down is obviously meant to apply more widely.So, finally, why the title? To save you googling - it's a lyric from "Don't Kill The Whale" - definitely not Yes's finest moment. Although I bought the single I still used to think it was mawkish and the description a bit of a stretch. Now, having read Leviathan, I'm not so sure.
Review by wandering_star
16/06/2015
Am I really about to recommend, wholeheartedly, a 420-page book about whales? Well... yes - even for readers who (unlike me) aren't already interested in mighty creatures of the deep.I could say at this point that the book isn't solely about whales - there is also quite a lot about the life of Herman Melville, and of course Moby Dick (did you spot the reference in the title of this book?).But honestly, it's mostly about whales - and the human relationship with them, from the incredible scale of the whaling industry to today's conservation tourism.So why is it so good? Well, the subject matter is interesting - both the whales, and the mind-boggling history of the whaling industry, from levels of danger to the enormous scale. It also turns out that there is a lot that we still don't know about whales:<i>It was only after we had seen the Earth from orbiting spaceships that the first free-swimming whale was photographed underwater. The first underwater film of sperm whales, off the coast of Sri Lanka, was not taken until 1984; our images of these huge placid creatures moving gracefully and silently through the ocean are more recent than the use of personal computers. We knew what the world looked like before we knew what the whale looked like. Even now there are beaked whales, or ziphiids, known only from bones washed up on remote beaches - esoteric, deep-sea animals with strange markings which biologists have never seen alive or dead, so little studied that their status is 'data deficient'. New cetaceans are still being identified in the twenty-first century, and we would do well to remember that the world harbours animals bigger than ourselves, which we have yet to see; that not everything is catalogued and claimed and digitalized. That in the oceans great whales swim unnamed by man.</i>But most importantly, as I hope that extract shows, Hoare is a great writer, with a wide range of knowledge, the ability to put it into context for the reader, and a real sense of the poetry and mystery of the subject. There is a loose structure to the book, with different chapters introducing different species (blue, sperm, nar-, and many others I would not have been able to name before) - but mainly it feels like one of those great conversations that move seamlessly from one subject to another, so looking back you wonder how you managed to range so widely.
Review by kenno82
27/08/2015
Refreshingly, this book looks beyond the history of whaling and takes a very literary view to celebrate the author's fascination with whales. The writing is up and down, but it's at its best when Hoare is writing poetically about his love and fascination for them - especially the preface. At times, the book loses its balance by becoming absorbed in one angle more than any other, such as Melville. However, along the way, it takes some really interesting twists and turns to examine aspects of whales few have ever written about, such as the disposal of washed up whales and the history of whale casts at natural history museums. This is definitely a fresh take on the subject for people who have read one too many whaling books.