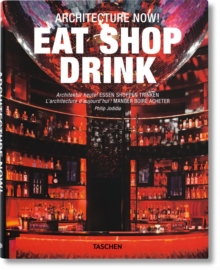 Architecture Now! Eat Shop Drink
Hardback
Description
Some of the most spectacular architectural designs of the moment have to do with our most basic needs: eating, drinking, and shopping.
Restaurants, bars, and boutiques are the substance of this new book that puts an emphasis-like all volumes of the Architecture Now!-series-on the very latest and best creations.
This is where you will find the likes of David Chipperfield and Peter Marino in the same book, where Jean Nouvel and BIG star Bjarke Ingels meet.
But it is also the place to discover new talents like the designer of London's Late Night Chameleon Cafe, Gary Card, to see how the director David Lynch imagined the subterranean Paris nightclub Silencio, or what designer Tom Dixon conjured up for the Tazmania Ballroom in Hong Kong.
Also included is A Cantina, in Galicia, Spain, winner of Best Overall Restaurant at the 2012 Restaurant and Bar Design Awards.
From Kobe, Japan to Turku, Finland to Sao Paulo, Brazil, Eat Shop Drink rounds up the newest and brightest places to see and be seen.