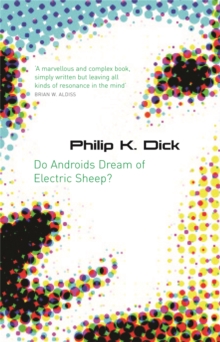 Do Androids Dream of Electric Sheep?
Paperback
Description
World War Terminus had left the Earth devastated. Through its ruins, bounty hunter Rick Deckard stalked, in search of the renegade replicants who were his prey.
When he wasn't 'retiring' them with his laser weapon,he dreamed of owning a live animal - the ultimate status symbol in a world all but bereft of animal life.Then Rick got his chance: the assignment to kill six Nexus-6 targets, for a huge reward.
But in Deckard's world things were never that simple, and his assignment quickly turned into a nightmare kaleidoscope of subterfuge and deceit - and the threat of death for the hunter rather than the hunted ...
Information
Format: Paperback
Pages: 224 pages
Publisher: Orion Publishing Co
Publication Date: 08/03/2007
Category: Science fiction
ISBN: 9780575079939
Other Formats
Paperback from £6.85
EPUB from £5.99
Free Home Delivery
on all orders
Pick up orders
from local bookshops
Reviews
Showing 1 - 4 of 4 reviews.
Review by ed.pendragon
16/06/2015
What can this reader say about this novel that hasn't been said before, and better? Rather than a closely argued review, this overview will be about impressions, rather like the 2007 Gollancz cover picture which, to my chagrin, I didn't realise was a colour dot-matrix image of a sheep till it appeared as a thumbnail on LibraryThing. A case, I suppose, of being too close to it in the first place. Anyway, I've learnt my lesson, and have waited awhile before committing interim thoughts to electronic page. First, what this book isn't. It's not 'Blade Runner', however much I tried to accommodate the film's images to the text, and however much I tried to second-guess the way the book's narrative was heading. The film is claustrophobic, the post-apocalyptic cityscape teeming with multitudes on the streets (despite the empty voids of buildings lining them). The novel on the other hand contains a short dramatis personae, and you are hardly, if ever, aware of anyone much else in the polluted environment that Deckard inhabits. And of course the Final Cut of the film implies Deckard is a replicant, whereas the novel comes down firmly in favour of his flawed but real humanity. In many ways this is a mirror image of the theme found in 'Frankenstein' and a reflection of the final voyage in 'Gulliver's Travels'--it may be possible to create or find organisms that are simulacra of perfect, noble-minded human beings, but it seems impossible to cross over the divide of Otherness.More impressions: Dick is a wordsmith and well-read with it (so, unlikely as it may seem in a future dystopia, are his characters), and that introduces a complexity that simple analysis along the lines of "This book is about..." will simply not start to unravel meaningfully. So I try to let the images that he does implant in my brain work their insiduous magic over time: images like the andy toad in the desert, the Mercer empathy machines, Rachael killing Deckard's animal purchase. And this, I think, is my final impression. To analyse 'Do androids dream...' may be like taking a creature and by dissecting it on a bench effectively end up killing it. Whether artificial or real, I'm not sure that retiring it is the right way to appreciate it. That's a cop-out, I know, but there you are.
Review by daviddonnelly
16/06/2015
The very best book by Dick I have read, simply brilliant. Crazy storyline, weird characters and mad ending, it has everything!
Review by LARA335
16/06/2015
I haven't seen 'Blade Runner' so came to this without any preconceptions, just intrigued by the weird title. And I don't think androids do. And this is why I really liked this novel- it raised so many questions, leaving me to use my imagination to fill in the many blanks. It jumped in with the action without explaining itself, giving a back-story. I wanted to know why the 'war' happened, and what life was like on Mars, and why did humans stay there but some androids wanted to come back to earth, and, and, and...It takes courage and confidence for a writer not to give all the info, and left me much to think about regarding the purpose of religion, status, the point of empathy and the importance of all the living things we share this planet with.Must dig out the film...
Review by xuebi
16/06/2015
Do Androids Dream of Electric Sheep by Philip K. Dick follows Rick Deckard as he must hunt down and "retire" (that is kill) six rogue androids that have made it back to the barren wasteland that is now earth, on which little animal and human life remains. Dick explores the common trope regarding the worth of a non-human and decides that empathy is the key trait that defines humanity; there are several times when the comparison between androids and sociopaths is made. This discussion of identity and what it means to be human is the recurring idea in Do Androids Dream of Electric Sheep, and indeed in most other works by Dick.

This book is definitely a product of the 1960s, but that does not lessen Dick's ability to weave a intriguing story which does raise questions pertinent to today's robotic industries.


Also in the S.F. Masterworks series | View all