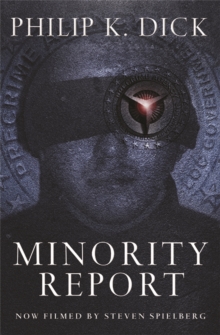 Minority Report : Volume Four Of The Collected Stories
Paperback
Description
Imagine a future where crimes can be detected before they are committed, and criminals are convicted and sentenced for crimes before committing them.
This is the scenario of Philip K. Dick's classic story, now filmed by Steven Spielberg, starring Tom Cruise.In addition to MINORITY REPORT this exclusive collection includes nine other outstanding short stories by the twentieth century's outstanding SF master, three of which have been made into feature films.
Information
Format: Paperback
Pages: 304 pages
Publisher: Orion Publishing Co
Publication Date: 05/12/2002
Category: Science fiction
ISBN: 9780575075207
Other Formats
EPUB from £4.99
Paperback from £7.85
Free Home Delivery
on all orders
Pick up orders
from local bookshops
Reviews
Showing 1 - 1 of 1 reviews.
Review by joririchardson
16/06/2015
Note: This is a review of the short story "Minority Report" only.John Anderton has created a new era of crime-fighting: he prevents rather than punishes. By analyzing and studying the obscure, prophetic mumblings of three miserable beings called the "precogs," his police force has been able to reduce the crime rate by 99.8%, and there hasn't been a murder in 5 years. The system is brilliant - his force gets neatly printed little cards, telling them the future perpetrator and the future victim, they rush onto the scene before anything happens, and lock the would-be killer away for life. It's perfect and simple. Or is it?On the day that a new, handsome young assistant (who Anderton is convinced is plotting to steal his job) comes to his first day, Anderton glimpses his own name on one of the accusing cards. The victim's name listed is someone that he has never even heard of. Convinced he is being set up, Anderton sets out on a mad race to evade his own unit and discover the truth about what is really going on.I would say that the actual telling of this story, in terms of the writing, the characters, and all of that basic stuff, was pretty average.However, what made me love this short story was the idea behind it. It was clever, it was thought-provoking, and it had plenty of twists and paradoxes and double (or, might I suggest, triple) paradoxes. And that is something I can never resist loving.The idea of the Pre-Crime Unit had me thinking, as I assume was Dick's intention. Apparently, the force is working well, as statistics do not lie. Crime down by just 0.2% shy of 100&? No one could ever say in his right mind that that is a bad thing. Not a single person murdered in 5 years? I am not sure if these numbers that Anderton gave us were based on the entire country or just New York City (the futuristic setting), but either way, it's monumental. However, then you get into the details that are deeper down, more difficult to call a simple 'good' or 'bad.' Technically, all of the "criminals" who are now locked away for life are, well, innocent. Did they commit any crime whatsoever? No. Anderton, when arguing this to another character, says "But they surely would." Well, yes, but...Anderton, believing himself the entire time to be innocent (he certainly doesn't intend to kill anyone!), is however forced to acknowledge that the system has probably convicted other innocents, and not only himself. However, he says that to abolish the system to save a few innocents, out of thousands of future murderers, "wouldn't be worth it."Who is right? Is there a right answer at all?My enjoyment of the story mounted to being thrilled by the conclusion. What a twisting, complex plot climax.*Spoilers below*Though the two stories couldn't be farther apart in terms of genre, I was strongly reminded of "Hamlet." There are the three witches, and there are the three precogs. There is a confused, powerful narrator and his more or less evil wife. And, of course, there is the same circular question at the heart of everything: If there had not been a prophecy of murder, would the murder have ever occurred? It was a great story, to be sure, but sadly not perfect. There were a few things I didn't like about it.Firstly, Anderton seems to accept and carry out everything too factually. When he first sees his name, listing him as a murderer, on the card, he just smiles an "amused" smile. And he seems to go about his escape, disguise, and sneaking without much stress.This was the biggest one for me.I wish that the story had told us more about the mysterious precogs. It felt a bit wrong to me that our main character never seems to think that perhaps these three people do not want to sit in a dark room covered in wires, tranquilized, and fed through tubes. At the beginning, Witwer expresses a small amount of pity for them, but at the end of the story, everything remains the same, and we can only assume that the three precogs are still drugged in the basement. Then again, this isn't exactly a moral type of story. Perhaps it would be more accurate to say that this is the opposite: a story that tells us that 'right' and 'wrong' are not so easy to define. Should three miserable human beings be released, ushered into normal and happy lives, if it means the death of thousands of people? Should people who are only guilty of still un-acted upon thoughts be locked away for life, if it would result in no more murder?Well, I enjoyed my first small taste of Philip K. Dick. I'm very hesitant to pick up sci-fi, and I suppose that sampling an author of the genre through short fiction is a good way to decide if I'll read anything more by them or not. In this case, I probably will, in hopes that the next one will be as twisty as this one. Recommendations from his fans?"Minority Report" is a small story that does not take much time to read, but has the detailed ideas and concepts of a large novel. Recommended.