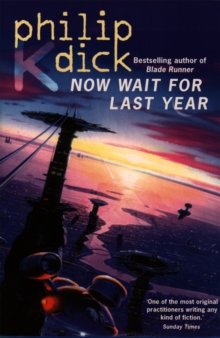 Now Wait For Last Year
Paperback
Description
Contacted by starmen of similar racial stock who have a greatly advanced, galactic society, a united Earth becomes their ally in a lengthy war with the Reegs, blue, six-limbed aliens with no vocal chords.
This is the story of how Earth chose the wrong ally.
Information
Format: Paperback
Pages: 224 pages
Publisher: HarperCollins Publishers
Publication Date: 13/12/1995
Category: Science fiction
ISBN: 9780006482444
Free Home Delivery
on all orders
Pick up orders
from local bookshops
Reviews
Showing 1 - 1 of 1 reviews.
Review by roxy
16/06/2015
This is the first novel by this author that I read… yes that only helps to show the incredible blanks in my SF culture. I also read somewhere that the author had a very particular style that didn't appeal to all readers and that perhaps it would be better for one unfamiliar with Dick's to start with other, more accessible novels such as Ubik or The Man in the High Castle. Far from stopping me, this statement, of course, only encouraged me to pick up the book and I didn't put it down till I was done. Eric Sweetscent is an artiforg doctor working at TF&D and trapped in a doomed marriage with a hot looking, cold hearted bitch. He's responsible for the health of Mr. Ackerman himself who's something over a 150 years old. The storyline takes place in 2055; Earth or Terra is the middle of war, on her side Lilistar (some long distant and more advanced cousins), opposite them the reegs who need a box to communicate with them. Gino Molinari is Terra's Supreme leader, elected years before but his health is gradually deteriorating and so Eric is sent to Cheyenne in order to cure him… but the old man refuses artiforg and more than that when Eric consults his medical file, he's confronted with questions and event he can't find a rational explanation to. This gets further complicated when Terra realizes that she's probably locked in the wrong war and against the wrong enemy… Freneksy and his 'Starmen turn out to be much bigger threat than the reegs. On top of that, add a recently manufactured drug, JJ 180 which allows transport in time and you've got yourself an enthralling twisted and complex intrigue. The author's future is filled with robants, talking cabs and babylands on Mrs for those who can afford it… for example, Ackerman has a precise replica of 1935's Washington which is where he grew up.Anyway, Eric is the kind of hero unwillingly trapped into this huge adventure and everything he tries to do doesn't always quite work out the way he had planned. If you like time travelling novels, you'll definitely love this one and even you're not used to the author's style, like I was, you won't get lost.