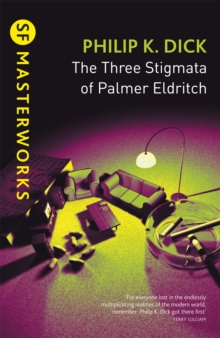 The Three Stigmata of Palmer Eldritch
Paperback
Description
In the overcrowded world and cramped space colonies of the late 21st century, tedium can be endured through the use of the drug Can-D, which enables the user to inhabit a shared illusory world.
When industrialist Palmer Eldritch returns from an interstellar trip, he brings with him a new drug, Chew-Z, which is far more potent than Can-D, but threatens to plunge the world into a permanent state of drugged illusion controlled by the mysterious Eldritch.THE THREE STIGMATA OF PALMER ELDRITCH is, by universal consent, one of his three key novels, and the book in which he first took his perennial interest in the fragile nature of reality to a new level of imaginative intensity.
Information
Format: Paperback
Pages: 240 pages
Publisher: Orion Publishing Co
Publication Date: 13/03/2003
Category: Science fiction
ISBN: 9780575074804
Other Formats
Paperback from £7.05
EPUB from £5.99
eAudiobook MP3 from £14.24
Free Home Delivery
on all orders
Pick up orders
from local bookshops
Reviews
Showing 1 - 5 of 5 reviews.
Review by krypto
16/06/2015
All Philip K. Dick novels are about the nature of reality, and I think this is his best. Completely mind-blowing yet still comprehensible, it has the incomparable PKD style that I find so hard to pin down - it's some combination of brevity, the unexpected and a sense of the alien, but there's still something entirely Other about the way he writes that I find unique. Hard to describe the plot (not much of a review, this), but as with anything PKD it's completely unpredictable.
Review by laphroaig
16/06/2015
One day I will have to return to this book and re-read it. Very slowly.Despite its pre-1980s origins (would any modern sci-fi author consider flying cars anything but out-moded fantasy?) Dick presents a very up-to-date view of the future: unremittingly grim; global warming; corrupt in every detail. Spartan in detail, terse in style and with some larger-than-life but always realistic characters, this was a good read.Despite this, there is no escaping that this novel is as mad as a box of frogs. Alien invasion? The nature of God? The ability of the human character to form bonds in the most hostile of situations? Perhaps just drug-induced fantasy ... who knows what this is really about? I would advise anyone to give it a try and if they figure it out to e-mail me the explanation.
Review by soylentgreen23
16/06/2015
Like "Ubik," this one will have you in a spin. Who is Palmer Eldritch? And does even he know?I love the aspects of escapism: the fact that people take drugs to actually commune together in a fantasy world of their own construction reminds me a lot of modern videogames, especially MMORPGs. I love the fact that escape from the Earth is considered terrible, like a cruel fate that awaits the unsuspecting. In all, I really like this book.
Review by bumpish
16/06/2015
I know that everyone says that this is PKD's masterwork, and I can see why, it's a pretty brilliant set of ideas, and the writing is splendid. I, however, didn't enjoy reading it as much as other PD books I have read in the past.
Review by hglotzbach
16/06/2015
Very interesting book, very deep...