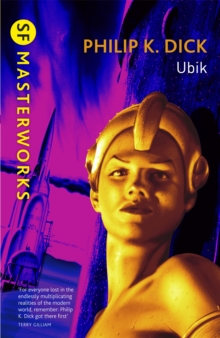 Description
Glen Runciter is dead.Or is he?Someone died in the explosion orchestrated by his business rivals, but even as his funeral is scheduled, his mourning employees are receiving bewildering messages from their boss. And the world around them is warping and regressing in ways which suggest that their own time is running out.If it hasn't already.
Information
Format: Paperback
Pages: 224 pages
Publisher: Orion Publishing Co
Publication Date: 01/02/2000
Category: Science fiction
ISBN: 9781857988536
Other Formats
Paperback from £7.85
EPUB from £5.99
Free Home Delivery
on all orders
Pick up orders
from local bookshops
Reviews
Showing 1 - 5 of 6 reviews.
Previous | Next
Review by soylentgreen23
16/06/2015
Dick made a habit through his career of tying himself - and his readers - in knots telling wild stories. This one is no exception, full of temporal shifts, diluted realities, and the occasional clever red-herring. Trademark stuff.
Review by JurviZ
16/06/2015
This book was pointless. A bit like The Catcher in the Rye. Stuff happens, but nothing meaningful.
Review by Pondlife
16/06/2015
This book was a bit hard to get into at first because there's a lot of jargon in the first few pages. I assumed it was important to know, so read the first few pages slowly. But I soon realised the jargon wasn't key to the overall plot. After that it became easier and I soon understood what was going on.The story really starts when the bomb goes off and kills Glen Runciter (or so we think). The characters start noticing strange things like Glen's head on coins, things aging quickly, and a gradual regression into the past. It's like they've entered a different world, which has a disturbing dreamlike quality. The book does a good job of describing the dream world, and as the story progresses it gets darker and turns into a nightmare.The story is reminiscent of the film "Jacob's Ladder", and I suspect whoever wrote the screenplay got some inspiration from Ubik. And the idea for the frozen commander Powell in "darkstar" must have come from the half-life state in this book.I didn't really understand the twist at the end with Joe's head appearing on coins. Did that mean that what we'd previously thought about who was alive and who was in half-life was wrong?
Review by questbird
16/06/2015
Not the greatest Philip Dick I've read but still pretty good in a skewed-perception kind of way.
Review by roblong
16/06/2015
Big Phil wigs out once more – a reality bending novel where nobody is really quite sure if the floor beneath them isn't about to turn to marshmallow. Reminded me of his novel The Three Stigmata of Palmer Eldrich, in a good way. I'd try to describe the plot, but it's so tangled I'd struggle to sum it up in a line or two. Very enjoyable, some of the writing is a little ropey and the characters aren't amazing, but that isn't really the point. Really good.
Also in the S.F. Masterworks series | View all