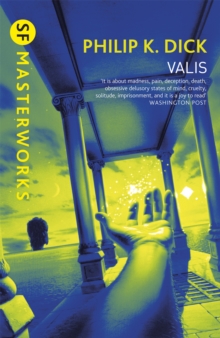 Description
It began with a blinding light, a divine revelation from a mysterious intelligence that called itself VALIS. And with that, the fabric of reality was ripped open and laid bare so that anything seemed possible, but nothing seemed quite right.Part science fiction, part theological detective story in which God plays both the missing person and the perpetrator of the ultimate crime, VALIS is both disorienting and eerily funny, and a joy to read.
Information
Format: Paperback
Pages: 272 pages
Publisher: Orion Publishing Co
Publication Date: 01/07/2001
Category: Science fiction
ISBN: 9781857983395
Other Formats
Paperback from £7.05
EPUB from £5.99
Free Home Delivery
on all orders
Pick up orders
from local bookshops
Reviews
Showing 1 - 3 of 3 reviews.
Review by shimra
16/06/2015
Classic, partially authobiographical book about searching for God while suffering from mental illness.
Review by Banoo
16/06/2015
I'm not sure how to rate this book. It was good, at times tedious (I'm really not into theological debates or philosophical musings)... but, I liked Horselover Fat aka Philip Dick aka the insane guy.So take one crazy guy slightly twisted in the head due to taking too many 'uppers', let one of his girl friends jump out of a window, let his wife leave with the kid, kill off another one of his girl friends and then set the poor guy on a course trying to figure out just what we humans are and where are we going. Oh, and be sure to throw in a pink laser beam containing mysterious information and aim it at his brain, and surround him with a handful of other wacky characters. Dip into Greek mythology, gnosticism, Christianity, and an unexplained dead cat... well, it's explained how it died but not the why it died, well, according to little Sophia, the new messaih, the why is because it was stupid. Put all of this together, bring a sane, stable mind to the table (yourself I'm assuming, but I may be wrong) and watch yourself unravel.It's fiction. It's partly autobiographical. It's a crazy new religion, if I were to use religion in a general sense that's defined as why we're here and where we're going and what we should do to go where we're going.It confused me until Eric Lampton (Eric Clapton/Peter Frampton combination, name-wise with the mind of Jim Morrison??) and Mini (Brian Eno??) came into the picture and confirmed that all of this was indeed crazy. But then, Horselover Fat came back and I was confused again.I really don't know what I'm saying here. I really don't know how to discuss this book. I do want to read <b>The Chronicles of Narnia</b>. Funny thing that this book would lead me to that book. But then nothing is really funny... except for Kevin's dead cat.And one more thing... my number 714 was mentioned in this book. That's cool. Maybe I'll go to India now. Something needs to be found.
Review by Pondlife
16/06/2015
I normally like PKD, but I found this just too weird and crazy. The only reason I kept reading it was because of the semi autobiographical nature, with both the narrator and Horselover Fat representing PKD.The first half of the book seems to be going nowhere, but then the second half tells the real story.Some people may like this, but it was just too much for me. I think I'll stick to PKD's earlier works.