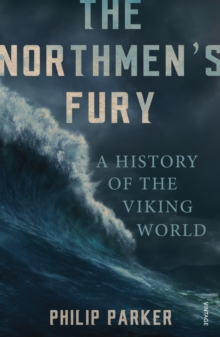 The Northmen's Fury : A History of the Viking World
Paperback
Description
The Northmen's Fury tells the Viking story, from the first pinprick raids of the eighth century to the great armies that left their Scandinavian homelands to conquer larger parts of France, Britain and Ireland.
It recounts the epic voyages that took them across the Atlantic to the icy fjords of Greenland and to North America over four centuries before Columbus and east to the great rivers of Russia and the riches of the Byzantine empire. One summer's day in 793, death arrived from the sea.
The raiders who sacked the island monastery of Lindisfarne were the first Vikings, sea-borne attackers who brought two centuries of terror to northern Europe.
Before long the sight of their dragon-prowed longships and the very name of Viking gave rise to fear and dread, so much so that monks were reputed to pray each night for delivery from `the Northmen's Fury'.
Yet for all their reputation as bloodthirsty warriors, the Vikings possessed a sophisticated culture that produced art of great beauty, literature of abiding power and kingdoms of surprising endurance.
The Northmen's Fury describes how and why a region at the edge of Europe came to dominate and to terrorise much of the rest of the continent for nearly three centuries and how, in the end, the coming of Christianity and the growing power of kings tempered the Viking ferocity and stemmed the tide of raids.
It relates the astonishing achievement of the Vikings in forging far-flung empires whose sinews were the sea and whose arteries were not roads but maritime trading routes.
The blood of the Vikings runs in millions of veins in Europe and the Americas and the tale of their conquests, explorations and achievements continues to inspire people around the world.
Information
Format: Paperback
Pages: 464 pages
Publisher: Vintage Publishing
Publication Date: 04/06/2015
Category: European history
ISBN: 9780099551843
Free Home Delivery
on all orders
Pick up orders
from local bookshops
Reviews
Showing 1 - 1 of 1 reviews.
Review by Eyejaybee
27/01/2016
This book offers a history of the Viking world, and plots the growth and then diaspora of the various sub-groups encompassed by that term. They certainly made extensive forays, reaching eastwards into Russia, and even reaching Istanbul (known to them as Mikkelgard), while also reaching south to Normandy and Brittany, and southwest to Britain. Their voyages westwards are noiw well documented, though this account places greater emphasis than many on the failed colonisation of Greenland.Parker has clearly researched his work deeply, and makes extensive use of the wealth of literary sources from Old and Middle English, Old Icelandic and Middle High German. I felt, however, that his account seemed very dry. Considering the fascinating subject matter, he seemed to wring out any sense of excitement or wonder, and reduced his story to a very flat series of descriptions of rais, casualties and thefts.