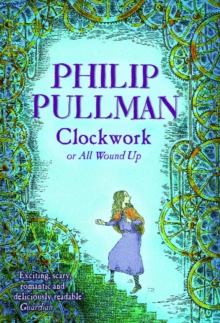 Description
Tick, tock, tick, tock! Some stories are like that. Once you've wend them up, nothing will stop them ...A tormented apprentice clock-maker, a deadly mechanical knight in armour - and the sinister Dr Kalmenius, who some say is the devil ...Wind up these characters, fit them into a story on a cold winter's evening, with the snow swirling down, and suddenly life and the story begin to merge in a peculiarly macabre - and unstoppable - way.
Almost like clockwork ...
Information
Format: Paperback
Pages: 96 pages
Publisher: Random House Children's Publishers UK
Publication Date: 04/11/2004
Category: General
ISBN: 9780440866381
Free Home Delivery
on all orders
Pick up orders
from local bookshops
Reviews
Showing 1 - 5 of 6 reviews.
Previous | Next
Review by Krissa7
16/06/2015
Its a good read, more of a bed time story, it leads you on a twisting path that no one can follow, unless you have the map. I liked it, the author took an interesting tale and twisted it around, I had to read it twice and ir was as enjoyable the second time as the first, I strongly recomend this book for younger kids over the age of eight. It may be frightening for younger kids. (It was a shock for me!)
Review by nlsings
16/06/2015
Basically, this book was perfect. It was a sweet, quick read. The writing was fantastic, and the pictures did not lull the story. It wrapped up very tidily. It is written at a level where it can be enjoyed by people at any age.
Review by Whisper1
16/06/2015
Highly creative and captivating, I thoroughly enjoyed this tale of an apprentice clockmaker who cannot meet the necessity of the job and resorts to unethical tactics. The list of characters are well developed with stories that all weave together, like a clock ticking, ticking, ticking.Recommended!
Review by shanaqui
16/06/2015
A few days ago, I suddenly had the urge to reread this. On discovering it was £3 on Amazon, I couldn't resist... I was a little less than pleased at not being able to get the edition of this I remember, but it's alright: only the cover is different. The illustrations, the layout, even the font is all the same, so that's alright.<br/><br/>The story has stayed in my mind for at least ten years, now: clockwork hearts and the relentless tick of machinery driving the story on. The prologue used to chill me -- the sense of inevitability, the sharp edge of the mainspring in the alarm clock, sharp enough to draw blood, and dangerous... And I remembered the hapless Karl, because I knew people like him, people who expected to get something for nothing. I remembered Gretl, too, though I do think I wouldn't be half as brave and warm-hearted as her.<br/><br/>I love the little asides from the narrator in the boxes. The story wouldn't be the same without them. It's a peek into what the narrator is really thinking -- it might be as fictional as the story itself, but it rings true, which is what matters.<br/><br/>Glad I bought a copy: I think I'll revisit it again before long. It's quick and easy to read, but there's an enchantment in it.
Review by jrissman
27/08/2015
Clockwork (1996) by Philip Pullman is a novella-length fantasy/horror fairy tale set in Renaissance Germany. It tells of happenings in a small town famous for its great, mechanical clock featuring many moving figures, each contributed by a clocksmith upon his graduation from apprenticeship. The story plays with the themes of time and of setting the gears of fate into motion, and ultimately seems to have the goal of teaching moral behavior. It acknowledges a debt to the German legend of Faust, a tale of a man who makes a deal with the Devil.I listened to a performance of Clockwork as an audiobook, which was just over an hour in length. I enjoyed it. It is part ghost story and part fairy tale, types of stories well-suited to be heard rather than read. Pullman is expert at pulling various narrative threads together and at building suspense.The only other thing I've read by Pullman is the "His Dark Materials" trilogy, but I didn't really perceive much similarity in style, theme, or content. I wouldn't have known they were by the same person simply by reading (or listening to) the text.