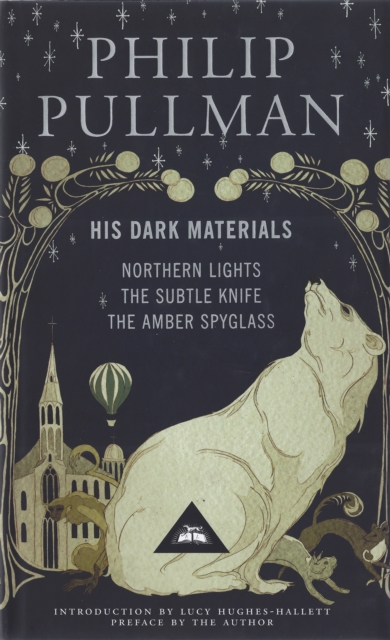 His Dark Materials : Gift Edition including all three novels: Northern Lights, The Subtle Knife and The Amber Spyglass
Hardback
Description
Fantasy, mystery, war and love - it's all here in the magical trilogy His Dark MaterialsThis BEAUTIFUL GIFT collection features ALL THREE titles in the award-winning trilogy: Northern Lights, The Subtle Knife and THE AMBER SPYGLASSThe Amber SpyglassWill and Lyra, whose fates are bound together by powers beyond their own worlds, have been violently separated.
But they must find each other, for ahead of them lies the greatest war that has ever been - and a journey to a dark place from which no one has ever returned . . . Northern LightsLyra Belacqua lives half-wild and carefree among the scholars of Jordan College, with her daemon familiar always by her side.
But the arrival of her fearsome uncle, Lord Asriel, draws her to the heart of a terrible struggle - a struggle born of Gobblers and stolen children, witch clans and armoured bears. The Subtle KnifeLyra finds herself in a shimmering, haunted otherworld - Cittagazze, where soul-eating Spectres stalk the streets and wingbeats of distant angels sound against the sky.
But she is not without allies: twelve-year-old Will Parry, fleeing for his life after taking another's, has also stumbled into this strange new realm. On a perilous journey from world to world, Lyra and Will uncover a deadly secret: an object of extraordinary and devastating power. And with every step, they move closer to an even greater threat - and the shattering truth of their own destiny.
Information
Format:Hardback
Pages:1144 pages
Publisher:Everyman
Publication Date:28/10/2011
Category:
ISBN:9781841593425
Information
Format:Hardback
Pages:1144 pages
Publisher:Everyman
Publication Date:28/10/2011
Category:
ISBN:9781841593425
Also in the Everyman's Library CLASSICS series | View all