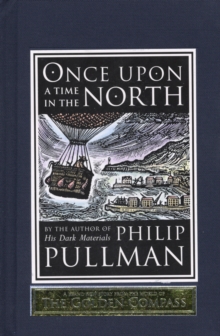 Once Upon a Time in the North
Hardback
Description
When Lyra is studying at Oxford University, she comes across the story of Lee Scoresby and Iorek Byrnisson's first meeting, many years ago, along with much evidence of the adventure that brought them together.
When a young Texan balloonist, Lee Scoresby, comes down to earth in the harbour of an Arctic town in the North, little does he realise that he is about to be embroiled in an out-and-out political brawl.
Lee and his daemon, Hester, find themselves the target of political factions trying to take over the running (and oil) of the town. And also resident in the town are huge arctic bears, ignored and patronised by the people and treated like second-class citizens.
When Lee and Iorek first meet, they cement a friendship that will continue throughout their lives, as the tensions and pressure in town lead to a deadly conclusion...Another wonderful tale from a master story-teller, giving us more extraordinary insight into the world of His Dark Materials.
Includes a thrilling board game!
Information
Format: Hardback
Pages: 112 pages
Publisher: Random House USA Inc
Publication Date: 01/04/2008
Category: Fantasy
ISBN: 9780385614320
Free Home Delivery
on all orders
Pick up orders
from local bookshops
Reviews
Showing 1 - 5 of 6 reviews.
Previous | Next
Review by TheoClarke
16/06/2015
Essentially, this quasi-western is a bridge between the Dark Materials trilogy and a new story line focussed on corporate power. With Pullman's characteristic wit, a charismatic hero befriends a bear and duels a killer in a quest for justice. The associated board game looks attractive but is no more than a 'spin the spinner, move a dobber, act on the square' design familiar in Victorian nurseries.
Review by tapestry100
16/06/2015
A prequel to the events of the <i>His Dark Materials</i> series, Philip Pullman's <i>Once Upon a Time in the North</i> tells the story of Lee Scoresby and Iorek Byrinson's first meeting, and how they came to be friends. While not delving at all into the mysteries or intrigues that were the heart of the rest of the <i>His Dark Materials</i> books, it was still a treat all the same to return to the world that Pullman created.It is a short story (it is printed as a matching volume to <i>Lyra's Oxford</i>) and takes place over the course of a day or two, at most. Lee Scoresby has only had his balloon for a short time, after winning it in a hand of poker, and is still learning the ropes to flying it. He has traveled to the North to look for work, and after landing on the island of Novy Odense, is pulled into a political intrigue that he quickly discovers he wants no part of, yet his sense of honor prevails and he finds himself in the middle of a gun fight towards the end of the story, trying to help those he feels are being treated wrongly. Iorek Byrnison is also at odds with the same group, so befriends Scoresby and together they take on the enemy.The gunfight towards the end of the book is well written, and even though I know Scoresby lives through this (as he plays a strong part in the later stories) I found myself still anxious as to the outcome of the story. I think that's a merit of Pullman's writing; that even though you know Scoresby will survive the situation, you still find yourself concerned for his well-being.A nice edition and a good story to provide a little background to these two characters. The addition of "historically correct" documents to the book just add to the details.There is a board game that is included in the back of the book, which has no bearing on the story whatsoever. I just thought that I'd mention that it was there.
Review by riverwillow
16/06/2015
Lovely little companion book to 'His Dark Materials' series of books which details how Lee Scoresby, and his daemon Hester, first encountered the great bear, Iorek Byrnison. Pullman is a master storyteller. My only criticism is that I wanted more.
Review by wyvernfriend
16/06/2015
The story of the meeting and friendship that formed from that meeting of Lee Scoresby and Iorek Byrnison, misunderstanding happens and the two have to help keep justice going. It's an interesting and touching short story with some fine engravings and illustations. This also includes a game.
Review by yellowoasis
16/06/2015
What a fabulous writer Philip Pullman is. This is sort of a prequel to His Dark Materials, a small but perfectly formed episode in the life of a young Lee Scoresby. It tells us most of what we need to know about his character, and the relationship he has with his dæmon, Hester. I love that we discover in this story that the dæmon is not a 'damn jackrabbit' as thought by both Scoresby and Hester, but a noble Arctic hare. In many ways this is an analogue for Lee's character: at the beginning he's just a swashbuckling adventurer, but through the course of this escapade he discovers his honourable nature. A brilliant book, with not a word out of place.