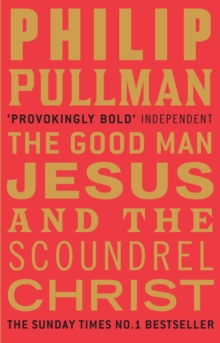 The Good Man Jesus and the Scoundrel Christ
Paperback
Description
This is a story. In this ingenious and spell-binding retelling of the life of Jesus, Philip Pullman revisits the most influential story ever told.
Charged with mystery, compassion and enormous power, The Good Man Jesus and the Scoundrel Christ throws fresh light on who Jesus was and asks the reader questions that will continue to resonate long after the final page is turned.
For, above all, this book is about how stories become stories.
Information
Format: Paperback
Pages: 256 pages
Publisher: Canongate Books Ltd
Publication Date: 01/10/2010
ISBN: 9780857860071
Other Formats
Paperback from £6.69
eAudiobook MP3 from £8.92
CD-Audio from £12.15
Free Home Delivery
on all orders
Pick up orders
from local bookshops
Reviews
Showing 1 - 3 of 3 reviews.
Review by abbottthomas
16/06/2015
Other reviewers have commented on Pullman's atheism - I thought he left quite a lot of room for God, even if it is a God with no concern about his creation or at least no interest in human-kind. The author can't, of course, accept the virgin birth, miracles or the resurrection so knocks the props from under Christianity despite approving Jesus' attitudes, teaching and integrity. His main dislike is for established religion, a creation of imperfect, if not greedy and power-hungry mortals.Pullman's explanations of the supernatural are neat, if not particularly original, and Christ is given the responsibility for writing up the history to ensure that Jesus' story will last through the ages. The one enigmatic character is the commissioner of the history who is never named: he visits Christ regularly and guides him in the manner of manipulation of the truth. This commissioner might have been one of the Sanhedrin but, if one didn't know better, he might have been intended to be Satan.
Review by ASmallHolding
16/06/2015
"This is a story." proclaims the back of the book, leaving the Reader in no doubt that the Author wants to make this clear and possibly in anticipation of reaction to the book. The book quickly establishes that this is "the story of Jesus and his brother Christ" and even before we learn that these brothers are twins, the title has already suggested to me that we may be in "evil twin" territory. Sadly the book does not develop well enough to support my first impressions and it becomes, quite simply, a retelling of a well known story and of possibly lesser known Gospels. I very nearly stopped reading at the end of the first short chapter. I felt as if I should be reading this aloud to a child. And, whilst there are some big words and bigger issues as the story progresses, I am still left feeling that I have been patronised. The style is simplistic. Maybe the Author intends to provoke our own thoughts, but he promised me a story and I feel as if I have been short changed. If I had no knowledge of the Bible at all I would have been left totally bewildered as to what this story was about. It is a story and has the makings of a good one but it is not well-rounded and I am left feeling as if I have read a synopsis.
Review by roblong
16/06/2015
This is alright, not a patch on His Dark Materials, but diverting enough for a quick read. To simplify somewhat, it uses the conceit of a 'good' twin Jesus - the prophet and idealist - and the 'bad' Christ - the church builder and tradition beginner - to discuss what Pullman sees and good and bad aspects of religion. Jesus brings a spiritual message of seemingly genuine authority, but Christ, wanting it to last forever and apply to everyone, flavours its chronicling with miracles, rituals and plans for a great Church to spread the Word across the world. The style of it is generally good, echoing the New Testament, but is broken annoyingly a few times for 'now this is the point' sections - sudden, several-page-long digressions on the wrongs of the Catholic Church, and a rather forced change of heart for one of the characters towards the end. Thought provoking at turns but not massively so.