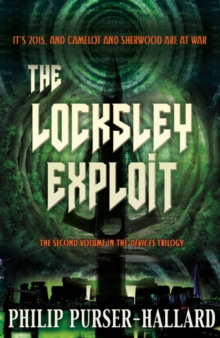 The Locksley Exploit
Paperback
Description
It's 2015, and Camelot and Sherwood are at war. The Circle, the UK paramilitary agency whose Knights carry the devices of the members of King Arthur's Round Table, is hunting the Green Chapel, eco-activists allied to Robin Hood's Merry Men.
For the Knights, this quest is personal as well as political: the Chapel's leader, Jory Taylor, is himself an errant Knight - and he has stolen the Holy Grail from the British Museum. But this war is fought with modern weapons, and nowhere - from the Circle's Thameside fortress to a Bristol squat, from the oldest pub in England to a music festival in Cheshire - will remain untouched. Before long, the enmity between its greatest heroes will tear Britain apart.
Information
Format: Paperback
Pages: 416 pages
Publisher: Snowbooks Ltd
Publication Date: 01/06/2015
Category: Fantasy
ISBN: 9781909679429
Free Home Delivery
on all orders
Pick up orders
from local bookshops
Reviews
Showing 1 - 1 of 1 reviews.
Review by reading_fox
11/07/2015
Not as good as the first. A slow beginning bogs down further across a complicated middle before everything resolves pretty much as expected for the almost exciting ending. Which is sadly a little bit what I was suspecting, and it's a common problem for mid-trilogies books, made worse in this case by a couple of particular factors. The thrill of the first volume was the entire books concept. That was novel and exciting, but we're familiar with it now. There are some nuances to explore, but the central tenant of the book must change. However the bit that hasn't changed is Dale's third hand description of the events supposedly told from an unbelievable couple of decades in the future. In this case it's a poor choice to make - a couple of decades in the future is a drastically different society, but there's no reference to that anywhere. It also means that everyone Dale relates as a first person view must survive - although there's an attempt at cheating there. And so all the action scenes become tempered, slowed and loses the appeal and immediacy of tension that is necessary fro them to be exciting. In a book that's already struggling to maintain engagement with too many characters spread too thinly over confused political schisms interleaved with almost but not fully explained sub-plots and myths, loosing the tension and drama in the critical actions scenes really doesn't help.That said it remains a very entertaining look at society, the problems of both central authority and more anarchic systems of government. Jory finds that the Chapel isn't everything he'd hoped when he transferred his allegiance away from the Circle, and becomes disillusioned with being Robin Hood. He tries, but he knows some of whatt he Circle is doing, even if not all their methods is correct. And then Merry and his peacemaking attempt is corrupted, and he splits to become a third party of devices competing for power between the others, not in any legend. I don't quite know where, but it's probably in Dale's retrospective telling that somehow all the emotion and passion gets lost. A couple split up, but instead of this passionate argument full of rights wrongs and justifications you get a pale semi-reasoned debate. It doesn't feel right, and it doesn't empathise with anyone, it doesn't engage. There are several more scenes like this that just need a bit more oomph and then the book would be excellent.
Also by Philip Purser-Hallard | View all
Also in the Devices Trilogy series