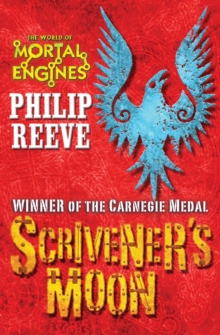 Scrivener's Moon
Paperback
Description
In a future land once known as Britain, nomad tribes are preparing to fight a terrifying enemy - the first-ever mobile city.
Before London can launch itself, young engineer Fever Crumb must journey to the wastelands of the North.
She seeks the ancient birthplace of the Scriven mutants.
In the chaotic weeks before battle begins, Fever finds a mysterious black pyramid.
The extraordinary secrets it contains will change her world forever.
The seventh awe-inspiring adventure in the World of Mortal Engines series by a superb writer at the height of his powers.
Information
Format: Paperback
Pages: 400 pages
Publisher: Scholastic
Publication Date: 01/10/2011
Category: Science fiction
ISBN: 9781407115269
Free Home Delivery
on all orders
Pick up orders
from local bookshops
Reviews
Showing 1 - 1 of 1 reviews.
Review by ed.pendragon
16/06/2015
Scrivener's Moon continues the story of Fever Crumb, the principal character who links all the prequels (three, so far) in the Mortal Engines series (known by the descriptive but not very poetic title of Hungry Cities Chronicles in North America, where any reference to the Othello quote is lost). It contains all the usual telltale signs of Reeve's Mortal Engines books: a rattling good storyline; the creation of empathy with some protagonists as well as sympathy for some rather less attractive characters; the positing of underlying moral and ethical questions without being preachy; and the comic use of culture-specific names and images, the ignorance of which doesn't preclude enjoyment of the whole). We also, for the first time I believe, get a helpful sketch map of the area, northwestern Europe as it may be a few millennia hence, which allows us to place all the action in its geographical context.In these pages we get to hear of the actual 'launch' of the original Hungry City, London, the planning of and subsequent production and commissioning of which sets in motion much of the action of the tale. Against the backdrop of the creation of this monstrous engine, the very epitome of steampunk, the lives of Fever Crumb, her family and acquaintances are all played out with some farce but also, it has to be said, with some not unexpected tragedy. And reminding us of the Wandering Jew of medieval legend, the enigmatic figure of the Stalker Shrike is never far away from our attention.There have been odd critical rumblings about how the Fever Crumb series lacked the immediacy of the Mortal Engines Quartet but, if it has been slow building, the excitement of reading of Tom and Hester's adventures in the Quartet has now been equalled by this reader's engagement in the third of the prequels. It seems very likely, from the inconclusive conclusion of Scrivener's Moon, that we may probably be referring to the Fever Crumb Quartet in the future; I certainly hope I shall be.